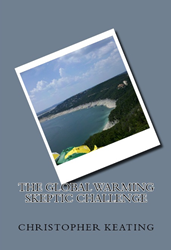 The submissions varied from bad to extremely bad, with some venturing into the realm of mystifyingly bad.
Mason, TX (PRWEB) April 25, 2015
In 2007, professor of physics Christopher Keating issued a challenge to the global warming denying community. With his Global Warming Skeptic Challenge, Keating offered to pay $10,000 of his own money to anyone that was able to prove, via the scientific method, that manmade global warming was not real. The challenge went viral in 2014 and the award was increased to $30,000 after Cenk Uygar and Jimmy Dore of The Young Turks pledged $10,000 each.
The sudden attention was a surprise to Keating. "For years, the challenge was receiving very little attention. Then, suddenly, I was receiving submissions every day," he said. "I was swamped. I finally put a deadline on it simply because I wasn't able to do anything else. It took a lot of work, but I made a commitment so I reviewed every submission."
Now, Keating has put the submissions and his responses together in book form, The Global Warming Skeptic Challenge. The book is free and available in PDF format on Keating's author webpage, ChrisKeatingAuthor.com. It has 86 submissions with responses. Keating also included chapters where he discusses the history of the challenge and his observations.
"If you really feel like you have to pay for it, it's available as an ebook and paperback on Amazon, but I would expect everyone to simply download the PDF," he said.
Keating doesn't keep us hanging in suspense – no one was able to win the challenge. "I knew there was no science to support the claims of people denying climate change and I wasn't surprised when no one was able to prove global warming isn't real. The submissions varied from bad to extremely bad, with some venturing into the realm of mystifyingly bad. There were a few submissions that at least made a genuine effort to present valid science, but most of them simply defied known science. There were a lot of falsehoods and false arguments used, but little science. I even had people telling me any science that disagreed with them had to be thrown out."
Overall, Keating said it was as he expected, "I don't think I received any claim that hasn't been made and debunked before. The debate on manmade global warming and climate change is driven by the fossil fuel industry which wants to confuse the facts of how we are changing the climate with our emissions. The only way you can come to any other conclusion is by rejecting science. This challenge demonstrated that point very convincingly."
Just because the claims were expected doesn't mean he didn't get something unexpected from the experience. "I just published my first fiction novel, That Which Maddens and Torments. I needed a villain, but I didn't want to use the same old bad guys. As it turned out, I had a really nice villain sitting right in front of me. So, climate change deniers are the villains. I'm not sending a secret message by doing that. The novel is intended as entertainment and all in fun."