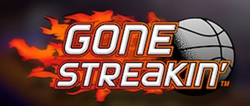 "My crew Class Act Sports is back at it again! Gone Streakin' a sweet new fantasy hoops contest. A free chance to win $100,000!" - Tim Hardaway Jr., New York Knicks Guard
NEW YORK (PRWEB) April 24, 2015
On the heels of a successful beta-launch of Brack Attack™, a first-of-its-kind college hoops bracket contest that is free to enter, Class Act Sports is further establishing itself among the elite in the fantasy sports industry. The company announces the inaugural phase of Gone Streakin'™ Hoops, a multi-faceted new take on fantasy sports with a grand prize of up to $100,000.
"After a successful rollout of Brack Attack™, with three very happy winners, we're excited to be debuting another innovative, user-friendly contest that is free to join with major prizes to be won," said Jared Ginsberg, Founder of Class Act Sports. "Gone Streakin'™ is a strategic contest that puts a new spin on traditional fantasy games. Be the first to reach 23 consecutive successful picks by selecting different players to record a double-double for a chance win $100,000. Like all of our contests, there is no cost to play Gone Streakin'™."
Gone Streakin'™ Hoops - The Nitty-Gritty
Gone Streakin'™ is the newest fantasy sports platform from Class Act Sports. Gone Streakin'™ Hoops is the first in a series of contests for a variety of sports, including the lead-up to a massive launch for football season with the upcoming Gone Streakin'™ Football. Gone Streakin'™ Hoops can be played in any of the following ways:
STREAK-BASED CONTEST
1st Place Wins $100,000
POINT-BASED CONTEST
1st Place Wins $1,000
Click here for more information
Ginsberg stressed that despite the fact this is the inaugural phase of Gone Streakin'™, all cash prizes will be awarded to qualified winners.
For more general information on Gone Streakin'™ please visit GoneStreakin.com
College Hoops Slam Dunk: Brack Attack™ 2nd Annual Contest Exceeds Expectations
CAS said this year's level of participation in the current edition of Brack Attack™ has skyrocketed from 2014, which bodes well for 2016 and years to come.
Social media has been buzzing with excitement about Brack Attack™, including several notable NBA players fresh off of impressive college careers who have joined in the fun, posting about Brack Attack™ on their Instagram pages on other social media pages including but not limited to: Tim Hardaway, Jr., Ty Lawson, Peyton Siva, Cleanthony Early, Langston Galloway and more.
There were three winners for this year's Brack Attack™, two of whom, would have been knocked out early in a traditional bracket contest. The winners range in age from 21-45 and come from all over the country.
"Class Act Sports is really on to something with the way they've designed their contests and how user-friendly they are," said one of the winners. "I've been a sports fan for my entire life but this is the first time a bracket contest kept me 100% engaged throughout, and the run by Duke had me rising in the ranks."
"Big ups to Class Act Sports making moves with Gone Streakin' featuring a new double-double streak-based contest." Said Rudy Gobert, Utah Jazz Center.
New York Knicks Guard Tim Hardaway Jr., commented, "My crew at Class Act Sports is back at it again. Gone Streakin' is a sweet new fantasy hoops contest. A free chance to win $100,000!"
For more information on Brack Attack™ please visit BrackAttackContest.com
Brack Attack™, Gone Streakin'™ and Class Act Sports® are not in any way affiliated with, or endorsed by NCAA Basketball, the NBA or their related institutions.
About Class Act Sports
Class Act Sports is a digital sports media company that offers unique access to charitable events, fantasy contests and official merchandise. Class Act Sports works closely with many athletes who give back to their communities by providing them with a platform to help increase awareness of their charitable causes through event coverage, and by assisting in generating additional revenue through sponsorships. The Class Act Sports creative team of quality professionals has extensive experience covering athletes, sporting and charitable events, and provides in-depth, up-close and personal interviews; its amazing production team creates professional quality videos; and its equally innovative design and graphics team seamlessly integrates brands and sponsors into media content.
For more information on Class Act Sports, visit ClassActSports.com