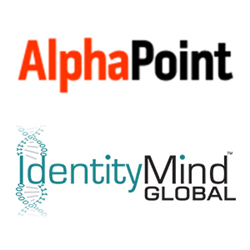 With IdentityMind's platform, our customers can leverage the tools they need to comply with regulation all over the world
Palo Alto, CA. (PRWEB) April 24, 2015
AlphaPoint, the leading provider of white label technology for digital currency exchanges, and IdentityMind Global, provider of risk management and anti-money laundering solutions, have partnered to provide AlphaPoint clients with complete user verification and anti-money laundering capabilities.
AlphaPoint's turn-key, white label solution gives customers the ability to launch their own digital currency exchanges in under 20 days, offering both a full stack software solution, as well as a liquidity service to bolster trading volumes. The partnership with IdentityMind will provide exchange owners with a crucial suite of compliance tools and technology to verify user identities, monitor transactions, prevent fraud, and comply with U.S. and international regulations.
"With AlphaPoint, clients have the technology to launch a Bitcoin exchange in days. However, exchanges must also comply with a variety of regulatory requirements to operate legally," explained Igor Telyatnikov, VP of Operations at AlphaPoint. "Owners must have their own AML program to verify user identities, monitor transactions, and screen against sanctions lists. With IdentityMind's platform, our customers can leverage the tools they need to comply with regulation all over the world."
The partnership follows the successful launch of multiple joint exchanges between the two companies, with several exchanges in recent months leveraging AlphaPoint's technology, and implementing IdentityMind's integrated identification services to manage the regulatory requirements of operating an international money transfer service.
"We made a commitment last year to provide the Bitcoin industry with the most effective, cost efficient compliance platform available," said Garrett Gafke, President & CEO of IdentityMind Global. "Today, we're proud to be the leading provider of KYC and compliance technology in the industry. Support for digital currency startups has been central to our efforts, and this partnership with AlphaPoint reinforces our commitment."
The IdentityMind platform provides users with transaction monitoring, sanctions screening, and sophisticated KYC services, including access to 16+ third party service and data providers. The platform is used by digital currency businesses across four continents, and provides users with a comprehensive toolset to reduce manual review processes. The IdentityMind IGNITE program provides digital currency startups with the platform's full capabilities, starting at a low flat-rate fee.
About AlphaPoint
AlphaPoint is a technology company that powers digital currency exchanges and provides institutions aggregate access and order routing to digital currency markets. Its secure, scalable, and customizable platform can process nearly 1 million transactions per second, enabling customers to innovate, differentiate, and transform their businesses. As the world's leading white label exchange provider, AlphaPoint powers several of the largest Bitcoin exchanges worldwide, and is led by a seasoned team with 35+ years in financial technology. AlphaPoint has offices in New York City, Philadelphia, and San Francisco. For more information, follow us at @AlphaPointLive or visit us at http://www.AlphaPoint.com.
About IdentityMind Global
IdentityMind Global provides risk management and regulatory compliance solutions for the ecommerce ecosystem. Their Fraud Prevention and Risk Management Platform provides financial institutions and online merchants with real-time capabilities to effectively address the operational challenges of conducting financial and payment transactions online. IdentityMind delivers integrated Fraud Prevention, Anti Money Laundering (AML), Know Your Customer (KYC), Merchant Underwriting and Transaction Monitoring. IdentityMind's patent-pending technology Electronic DNA (eDNA™) recognizes identities based on electronic attributes and how these attributes are validated and correlated against each other. Our Platform shares eDNA™ across all our clients so they can all benefit while keeping identities and transactions private to each client. IdentityMind Global services clients worldwide including Banks, Money Service Business, Payment Service Providers, Virtual Currency Exchanges and Trading Platforms, and Online Merchants. For more information, visit us at http://www.identitymindglobal.com, or follow us on twitter: @identitymind.
© 2015 IdentityMind Global. All rights reserved. IdentityMind, IdentityMind Platform, IdentityMind eDNA, IDMPay and the IdentityMind logo are trademarks or registered trademarks of IdentityMind Global, Inc. in the United States and other countries. All other brand, service or product names are trademarks or registered trademarks of their respective companies or owners.
IdentityMind Global™ is privately held. For more information please refer to http://www.identitymindglobal.com, or reach us at info(at)identitymind(dot)com.