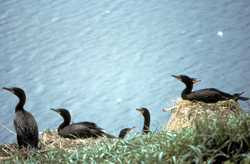 Blaming salmon and steelhead declines on wild birds that have coexisted with salmon since time immemorial is nothing more than a diversion.
Chicago, IL (PRWEB) April 25, 2015
On April 20, five conservation and animal welfare organizations filed a lawsuit to try putting a stop to a plan to exterminate over 10,000 Double-Crested cormorants and oil over 26,000 nests (Audubon Portland, Civil No. 15-665). Bird-X, a Chicago based company in the pest bird control market for 50 years, questions why such dramatic and most likely ineffective measures are being pushed.
The Audubon press release states that three federal agencies set to kill the birds (the U.S. Army Corps of Engineers, U.S. Fish and Wildlife Service, and USDA Wildlife Services) are doing so in a misguided effort to protect an endangered species of salmon that migrate between the channels created along the edges of East Sand Island, located at the mouth of the Columbia River in Oregon. Cormorants are fish-eating birds that do eat some of the salmon.
"This is not about birds vs fish" Audubon Society of Portland's conservation director Bob Sallinger reportedly stated, "The Corps and other federal agencies have proposed rolling back dam operations that benefit salmon while at the same time targeting thousands of cormorants. Blaming salmon and steelhead declines on wild birds that have coexisted with salmon since time immemorial is nothing more than a diversion."
The slaughter is said to impact about 15 percent of the entire population of double-crested cormorants west of the Rocky Mountains, which the report points out the Corps and the USDA Wildlife Services, both of which approved the permit, admit will drive cormorant populations down, "below sustainable levels," with cormorant populations already 10 percent lower than where they should be. Furthermore, "the agencies failed to utilize available non-lethal methods of cormorant control."
Bird-X's media correspondent Kelly Nelson says, "Lethal solutions can upset and destroy ecosystems, period. In this situation, not only will the slaughter of 10,000 birds and 26,000 nests threaten double-crested cormorants as an entire species, but could reasonably threaten the endangered salmon population even more and cause other environmental harm, since cormorants do so much more for the environment than just eat salmon – not only at East Sand Island, but every other location they migrate to. If you want to solve the problem, solve the actual problem. There are humane solutions to this issue that should be explored."
As explained in an earlier Audubon Article, the cause for the salmon decline on the Columbia River is due to human forces: dams, habitat loss, and fish hatcheries.
The Audubon Portland article continues, "We expect the federal government to protect native wildlife, not intentionally cause major declines… Cormorants eat a very small portion of migration salmon and also eat their predators, so the killing will have little benefit for salmon. But the killing will have a significant impact on the cormorant population... populations are currently less than 10 percent of their historic levels."
Sharnelle Fee, director of the Wildlife Center of the North Coast, stated, "The saddest part about this action is that it will do nothing to protect salmon. The science supporting this lethal control action is remarkably weak and this action is virtually meaningless from a salmon recovery perspective."
ALDF's Executive Director reportedly stated, "The Corps has lost four lawsuits in federal court over the past decade due to its failure to address the impacts of dams on salmon. Rather than addressing this ongoing violation of federal law, the Corps is now trying to blame wild birds who co-existed with healthy salmon runs for millennia before the Corps of Engineers came on the scene."
Bird-X has built its reputation on effective, non-lethal bird and pest control, including work with government agencies in the United States and throughout the world. Over the last 50 years they have found nonlethal bird control is not only humane and environmentally responsible, but much more effective than lethal measures, especially over time. Dedicated to protecting the health of humans, wildlife, and the environment, the Chicago-based company manufactures a complete line of unique pest control products with an unmatched focus on efficacy.