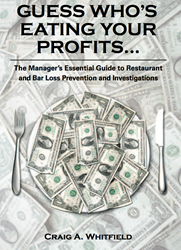 Small thefts are likely the tip of the iceberg and add up to significant losses
SOUTH BEND, Ind. (PRWEB) April 27, 2015
The joy of building a strong business that supports a community is the lifeblood of many families. Unfortunately, that dream can come crashing down if profit margins are not met. Many owners may not suspect that the major thief of profits could be working within the company walls.
"When owners or managers hold the belief that their staff wouldn't steal from them, the stage is set for huge losses," said Craig Whitfield, author of "Guess Who's Eating Your Profits…"
Regardless of the corporation, organization or company, profit goals may be a struggle to reach. Even accomplished managers may overlook the impact that employee theft has on their bottom line.
The book shows how to identify, investigate, and prosecute those who are stealing from the business. While "Guess Who's Eating Your Profits…." emphasizes the issue within restaurants and bars, employee theft can happen in any industry.
Whitfield has over 35 years experience within law enforcement and corporate loss prevention. He has conducted thousands of criminal and internal investigations. He has spent the last decade protecting company profits and assets. Currently, Whitfield serves as Asst. Chief of the Memorial Hospital Police Department in South Bend, Indiana.
"I am passionate about stopping internal theft in the food and beverage industry," Whitfield said. "Many in the industry see internal theft as 'cost of doing business.' However, this does not have to be a reality. Small thefts are likely the tip of the iceberg and add up to significant losses."
For more information, visit Authorhouse.
"Guess Who's Eating Your Profits…"
The Manager's Essential Guide to Restaurant and Bar Loss Prevention and Investigations
By Craig A. Whitfield
ISBN: 1481725130
Available in softcover, hardcover
Available on Amazon, Barnes & Noble and AuthorHouse
About the author
Upon graduating from Ball State University, Craig Whitfield begin working with the Mishawaka (IN) Police Department. He recently reentered law enforcement after previously retiring. Whitfield specializes in restaurant and bar fraud and theft investigation. He currently resides in Mishawaka, Indiana.
# # #
**FOR IMMEDIATE RELEASE**
For review copies or interview requests, contact:
Jake Doll
317.602.7137
jdoll(at)bohlsengroup(dot)com