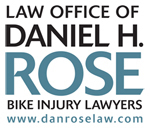 San Francisco,CA (PRWEB) April 25, 2015
The Law Office of Daniel H. Rose is proud to be a Gold Sponsor the East Bay's Bike To Work Day (BTWD), May 14, 2015. Organized by Bike East Bay, the East Bay's primary bicycling advocacy coalition, BTWD is typically enjoyed by tens of thousands of ordinary folks who choose to experience the numerous benefits of bicycling for work, school, and their other transportation needs. In so doing, bicyclists of all ages and backgrounds coalesce around an activity that is both personally beneficial in terms of their physical, mental and financial health, and which benefits local, regional, and planetary environmental concerns.
The Mission of Bike East Bay, founded more than 40 years ago, is to promote healthy, sustainable communities by making bicycling safe, fun and accessible. Through advocacy, education, and community involvement, it tirelessly works to support the development of a vast and seamless network of bicycle facilities, cultivates bicycle and people friendly street design, increase funding for bicycle projects and improvement, educate the public through partnerships with law enforcement, schools, employers, riding clubs, and others, and increase awareness and appreciation of bicyclist. Our law firm has the utmost respect and admiration for Bike East Bay's work and many accomplishments.
The Law Office of Daniel H. Rose is a personal injury law firm dedicated to the representation of injured bicyclists and pedestrians throughout the San Francisco Bay Area, with more than 30 years of experience. The founding lawyer, Daniel Rose, is widely regarded as one of the leading bicycle accident attorneys in the San Francisco Bay Area, Sonoma and Napa. Mr. Rose personally provides several hours per week of free consultation to the cycling community.
LAW OFFICE OF DANIEL H. ROSE
One Sansome Street, Suite 3500
San Francisco, California 94104
Tel: (415) 946-8900 Fax: (415) 221-0892
danrose(at)danroselaw(dot)com