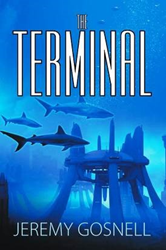 ""We are thrilled to announce the release of this fascinating science fiction novel." - Robert Fletcher, CEO of SBPRA
(PRWEB) April 27, 2015
"The Terminal" is a stunning science fiction thriller that explores how a past civilization existed … and just what lessons that civilization could teach today's world.
It all begins when scuba diver Eric Rayner disappears while diving at Dean's Blue Hole in the Bahamas. Seemingly unrelated incidents are tied together, leading to an incredible journey that heads back 70,000 years in time to the ancient kingdom of Atlantis.
Atlantis researcher Allison Chandley follows in Eric's footsteps and is suddenly whisked away to join him in the fabled Atlantis. She finds the kingdom in shambles and under constant attack by strange creatures. When she is captured by the creatures, the people of Atlantis deploy an ancient biological weapon to destroy them and save her life.
But to return home from Atlantis, Eric and Allison must find a control system called The Terminal that alters time and space. Will they succeed?
"We are thrilled to announce the release of this fascinating science fiction novel," said Robert Fletcher, CEO of Strategic Book Publishing and Rights Agency.
Watch the video at: https://www.youtube.com/watch?v=r9xlPHKL0Wc&feature=youtu.be
THE TERMINAL (ISBN: 978-1-63135-789-3) is now available for $14.95 and can be ordered through the publisher's website:
http://sbprabooks.com/JeremyGosnell or at Amazon.com or Barnesandnoble.com.
About the Author: Jeremy Gosnell is a magazine writer and a long-time marine aquarist. He lives in the mountains of western Maryland and was inspired to create this story after reading Graham Hancock's writings on a pre-classical era civilization. His biggest challenge was "tying human genetics, ancient history, and seismology together to create a story that leads back to an ancient kingdom, written about long ago by Plato." He enjoyed envisioning a scientific picture of what Atlantis and its people may have been like.
WHOLESALERS: This book is distributed by Ingram Books and other wholesale distributors. Contact your representative with the ISBN for purchase. Wholesale purchase for retailers, universities, libraries, and other organizations is also available through the publisher; please email bookorder(at)sbpra(dot)net.