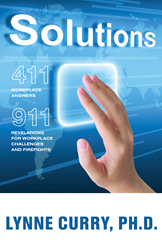 This book will resonate.
Anchorage, Alaska (PRWEB) June 01, 2015
On June 4 6:30-8:30 p.m., the Anchorage, Alaska Barnes & Noble welcomes columnist and author, Lynne Curry, to sign her most recent book, Solutions.
"Whether you are an employee or an employer, this book will resonate. Unless you have been living under a rock, you have already been exposed to many of these problems that cause conflicts at work, resulting in stress and lost productivity, and negatively affecting health and happiness."
Lynne Curry, Ph.D, SPHR is a management/employee trainer and owner of the Alaska based consulting firm, The Growth Company, Inc: http://www.thegrowthcompany.com