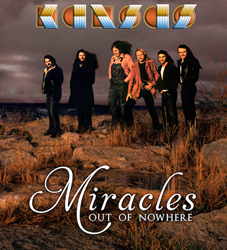 "Miracles Out Of Nowhere" is the unlikely yet true story of a great band that came out of the Heartland, and made rock & roll history that's so much more than dust in the wind." - David Wild, Rolling Stone
Columbus, Ohio (PRWEB) April 29, 2015
April 29, 2015 – KANSAS has been partnering with mobile marketing system, Mobius International, Inc., to help build excitement surrounding the band's recent release of their documentary, Miracles Out Of Nowhere. Mobius' service allowed the band to connect directly with fans on a personal level.
"KANSAS is a band that's been around a long time. We were not sure if our fans would embrace this technology or not. Boy, were we wrong!" states KANSAS drummer and manager Phil Ehart. "By texting our fans free advance snippets of our documentary ahead of the on sale date, we had them so informed and excited about what the product would be! And, they could preorder the documentary DVD straight from us! It was a home run!"
Fans engaged by texting a picture of the stage at KANSAS concerts. By doing so, fans opted into the Mobius service. After the concert fans could follow the band from their cell phones and receive exclusive video messages from band members thanking them for coming to the show. KANSAS was able to stay connected with these dedicated fans after the concerts, providing exclusive updates and sneak peeks from their documentary, Miracles Out Of Nowhere, and provide an exclusive opportunity to pre-order the DVD. Close to half of the documentary's pre-sale orders were acquired through Mobius, leading to the band's first Billboard Top 200 debut in twenty-five years!
"We are very pleased with the launch of Miracles Out Of Nowhere and the unique approach Mobius offered to directly reach KANSAS's most passionate fans," mentions Sony Legacy Marketing Specialist Will McKinney.
Mobius founder and president Aram Kovach adds, "It was a pleasure to work on this project with the KANSAS and Sony Legacy teams. Helping KANSAS successfully engage and activate their fans in the same ways Mobius has helped Fortune 500 companies engage their customers was something that was rewarding for all parties involved. Knowing that KANSAS has had this kind of sales success, it emphasizes the impact our service can have for today's artists."
To commemorate the band's 40-year anniversary of their debut album, the classic KANSAS lineup reunited, for the first time in more than 30 years; at the place their incredible journey began, Topeka, Kansas! There, they relived the incredible untold story of one of the most successful American rock bands of their era. Returning to monumental career landmarks in their hometown, as well as sharing untold memories ranging from touring to songwriting and recording, the band shares how the smash hit "Dust in the Wind" was just a passing comment away from never being recorded! The documentary features interviews from legendary Queen guitarist and former tour mate Brian May, acclaimed producer Brendan O'Brien, Rolling Stone journalist David Wild, and more. Featured prominently is country icon Garth Brooks, who counts KANSAS, alongside The Beatles and the Eagles, as one of his greatest inspirations. These extraordinary new insights are coupled with rare and unseen footage, including live performances and candid, fan-shot footage of the band on the road. Miracles Out of Nowhere offers an unprecedented look at the incredible ascent of KANSAS, a story that appeals to new fans and veteran enthusiasts alike.
The film is available for purchase at http://www.miraclesoutofnowhere.com/ or simply take a picture of the album cover and text to Kansas(at)picfly.me for special offers.
All of this news comes on the heels of Kansas' evolving partnership with Tour Sync, who manages technology and logistics for the band's fan club ticketing and VIP experiences, merchandising and online retail. In addition, Tour Sync was the sole distributor for the 'Miracles Out of Nowhere: Limited Deluxe Edition" Pre-Order Campaign.
###
About KANSAS
From the beginning, KANSAS was fascinating in its unconventional approach to rock stardom. The sextet, composed of drummer Phil Ehart, bassist Dave Hope, keyboardist/guitarist Kerry Livgren, violinist/vocalist Robby Steinhardt, vocalist/keyboardist Steve Walsh, and guitarist Richard Williams were unlikely candidates for mainstream success in every way. After an improbable pairing with rock impresario Don Kirshner, the man behind the Monkees who signed and financed KANSAS on his Kirshner label, their relentless drive to succeed eventually resulted in instantly recognizable iconic hits like "Carry On Wayward Son," "Dust in the Wind," and "Point of Know Return."
KANSAS has released eight gold albums, three 6x platinum albums (Leftoverture, Point of Know Return, The Best of KANSAS), one platinum live album (Two for the Show) and the million-selling single "Dust in the Wind." Albums and singles by KANSAS could be found on the Billboard charts for more than 200 weeks during the 1970s and 1980s. "Dust in the Wind" and "Carry On My Wayward Son" can still be heard on today's radio.
About Mobius
Mobius is an advanced image recognition system designed to work with any camera-enabled mobile phone. When a user sends an image via a mobile phone, Mobius automatically receives, identifies, and replies with a custom message, special offer or other unique mobile content including video or sound files. Mobius works on all mobile phone carriers, requires no downloads, and is available anywhere in the world where a mobile internet connection is available. A truly international application, Mobius responds in the primary language of the originating country. The Mobius service in itself is free, but standard carrier messaging and data rates may apply. Mobius International DBA http://picfly.me
Visit http://www.mobiworld.me for more information, or call parent company Compex, Inc for more details at US Headquarters (877) 829-0536.
KANSAS Press Contact:
Dayna Ghiraldi-Travers | Big Picture Media
NYC | Los Angeles
dayna(at)bigpicturemediaonline.com
Natalie Schaffer | Big Picture Media
New York City | Los Angeles
250 S. Beverly Drive, Suite 200, Beverly Hills, CA 90212
Office: 310.274.2946 | Cell: 661.233.6479
natalie(at)bigpicturemediaonline.com