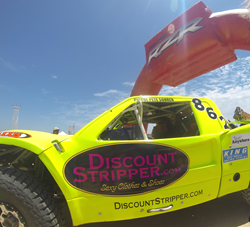 Sexy Lingerie And High Heels Going Fast
Melbourne, Florida (PRWEB) April 25, 2015
Not unlike at the last race, the unique sponsor name created a buzz throughout the crowd. With the large, visible signage reading Discountstripper.com, Sexy Clothes & Shoes, there was obviously quite an interest in the details of the sponsored vehicle.
As one may imagine in such a situation, many photos were snapped and questions asked by curious media professionals and excited race fans alike, thus making an uncommon type of business sponsoring to be quickly known on the race front.
Discountstripper.com is racing into the forefront of sponsorship. It is safe to say their adventures have just begun. Who knows? Discountstripper.com might even become a household name in the Racing Industry soon! So keep an eye out for them at the next race! Be sure to check out http://www.discountstripper.com for all of the exciting photos of them and their sponsored car at The Mint 400 last month in Las Vegas, and brand new photos from the weekend at The Score International Baja Sur 500 from Cabo to Loreto, Baja CA.
About Discountstripper.com
Founded in 2006, Discount Stripper (Subsidiary of East Coast Fashions Inc.) has grown to be one of the largest e-commerce retailers of sexy costumes, intimate apparel, exotic dancer clothes, club wear and lingerie; including an extensive selection of sexy shoes. Our emphasis is on our customers feeling sexy during that special occasion. Since its inception as a boutique retailer, Discount Stripper has developed a complete array of the sexiest clothing at the best prices. We have built a reputation of personal and attentive customer service, established a worldwide clientele and commercial customers for sporting events, movies, theater and night clubs. We carry an extensive line of products, for all sizes, ages and tastes including alternative and gothic footwear, sexy costumes, plus size lingerie and cross dresser clothes. We offer products from premium brands like Pleaser U.S.A., Ellie Shoes, Espiral, Elegant Moments, Leg Avenue and Body Zone Apparel. Discount Stripper is fully staffed to provide a pleasant, safe, secure and private online shopping experience.