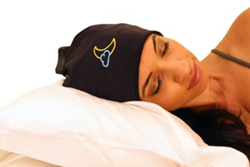 The most significant drug-free sleep innovation in years.
Colorado Springs, CO (PRWEB) April 24, 2015
Sleep Shepherd, LLC has launched a product unlike any other sleep aid. The Sleep Shepherd® (http://www.sleephat.com) is unique in that it works with the brain's natural structure to slow brainwave activity and guide the wearer to sleep.
The CDC has classified insufficient sleep as a public health epidemic - estimating that 70 million Americans suffer from insufficient sleep that contributes to depression, decreased energy levels and weight gain. Researchers estimate that insomnia costs the US $63 billion annually in lost productivity.
While a number of factors often prevent people from getting the sleep they need, the Sleep Shepherd® can help maximize time in bed by getting them to sleep fast while allowing their natural sleep cycle to operate unimpeded by chemical agents.
The Sleep Shepherd® incorporates Virtual Hammock® Technology that induces a rhythmic sensation by utilizing the natural workings of the brain's auditory center. The rhythmic pulse an individual 'hears' when wearing the Sleep Shepherd® is actually the brain deciphering the difference in frequency between the two tones that are played into either ear.
The Sleep Shepherd® is an entirely drug-free and all-natural approach to getting a better night's sleep. The hat is made of a stretchable and breathable fabric with built-in sensors and hi-fidelity speakers.
A Harvard MD calls the Sleep Shepherd® "the most significant drug-free sleep innovation in years." And people struggling to get a good night's sleep say, "The Sleep Shepherd is definitely causing me to sleep much, much deeper than I ever have before," and "I've found the Sleep Shepherd to be very comfortable and easy to use. It helped on the first night I tried it," and finally, "Probably the best sleep I have had in a long time."
People interested in learning more about the Sleep Shepherd® can visit http://www.sleephat.com or contact Dr. Michael Larson, Founder and President of Sleep Shepherd, LLC at michael(at)sleephat(dot)com or 719-359-2740.
Sleep Shepherd, LLC is a technology company dedicated to helping people find better rest without drugs. The founder was motivated by watching his daughter suffer from the devastating effects of a sleep disorder.