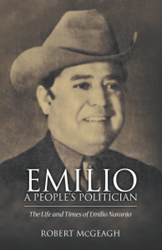 Regardless of history's final verdict on (Emilio) Naranjo, nobody can deny the impact he had on the state and its politics.
RIO RANCHO, N.M. (PRWEB) April 27, 2015
For nearly 50 years, one man dominated the political scene of Hispanics, Anglos and American Indians in northern New Mexico: Emilio Naranjo. This new book explores the controversial political figure, who some refer to as a self-serving, corrupt boss and others hail as a folk hero, convincing a generation of northern New Mexico residents to use the power of the ballot box. Conflict swirled around this powerful Democrat, reaching his highest power in the 1960s and '70s when he was sheriff in Rio Arriba County.
"Emilio: A People's Politician" is the result of hours of hours of conversation with Naranjo in his home in Española, 25 miles north of Santa Fe, as well as detailed research. The book explores some of the history of people who have known cultural and geographic isolation for centuries, since Spanish conquistadors rode into the Española Valley more than 500 years ago, bringing with them the game of politics. Jockeying for political power is a way of life, including for the charismatic figure at the center of this biography.
The father of 16 took to heart the importance of a grassroots approach to politics, interacting with constituents whenever possible and addressing their concerns since he entered the political scene in the late 1930s. Naranjo's work serving the people of Rio Arriba as sheriff, county manager, county commissioner and state senator tells its own story. The author doesn't sugarcoat history, however, including information obtained from those who were Naranjo's opponents whether during his time as federal marshal during Reies Lopez Tijerina's Courthouse raid, a drug czar or state senator.
Regardless of history's final verdict on Naranjo, nobody can deny the impact he had on the state and its politics. "His remarkable and enduring 50-years-plus presence in New Mexico's political scene can never be duplicated," former New Mexico Gov. Bill Richardson writes in the book's forward, who experienced that power firsthand. "If Emilio was for you, the word was that most Hispanics in New Mexico would give you their vote because you had to be OK if Emilio said so."
Robert McGeagh, a former professor of New Mexico history and Fulbright Scholar, lives in Rio Rancho, N.M. His scholarship allowed him to study in Uruguay in 1981 and in Argentina in 1988.
----------
Emilio: A People's Politician
Robert McGeagh
Dog Ear Publishing
ISBN: 978-1-4575-3431-7
408 pages
$19.95 US
Available at Ingram, Amazon.com, Barnes & Noble and fine bookstores everywhere.
About Dog Ear Publishing, LLC
Dog Ear Publishing offers completely customized self-publishing services for independent authors. We provide cost-effective, fast, and highly profitable services to publish and distribute independently published books. Our book publishing and distribution services reach worldwide. Dog Ear authors retain all rights and complete creative control throughout the entire self-publishing process. Self-publishing services are available globally at dogearpublishing.net and from our offices in Indianapolis.
Dog Ear Publishing – self-publishing that actually makes sense.