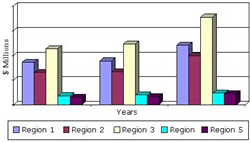 The global market for glass fiber reinforced plastics will grow from $31.4 billion in 2014 to nearly $44.4 billion by 2019.
(PRWEB) April 27, 2015
BCC Research (http://www.bccresearch.com) reveals in its new report on glass-fiber reinforced plastics (GFRP) that even though this material faces challenges from increasing raw material and energy prices in addition to threats from alternatives, the market continues to grow with rising demand from North America, Asia-Pacific, and other developing regions.
The GFRP market finds its major applications in construction and infrastructure, automotive, wind blades, aerospace and defense, pipes and tanks, and other sectors. Among all the applications, construction and infrastructure, aerospace and defense, and automotive industries accounted for about 67% of the global market for GFRP in 2013. BCC Research projects that the global market for GFRP will increase from $31.4 billion in 2014 to nearly $44.4 billion in 2019 at a five-year compound annual growth rate (CAGR) of 7.1% from 2014-2019.
Glass fibers are reinforced with a polymer matrix to produce GFRP that has a higher strength-to-weight ratio than traditional metals such as steel and aluminum. This can offer enhancements such as scratch resistance, corrosion resistance, insulation properties, low susceptibility to moisture, and high mechanical properties for the material. In addition, GFRPs reduce energy consumption in the aerospace and defense and automotive sectors due to their low weight and they contribute to the reduction of CO2 emissions from automobiles.
The global economic recovery and increasing construction and infrastructure activities, rising personal income, expanding vehicle sales, developing demand for renewable sources of energy such as wind energy, and the revival of the aerospace and defense industry are driving the market for GFRPs.
The rapidly growing emerging economies, which are mainly China and India in terms of both economy and population, have significantly expanded the demand for GFRP over the past five years. In addition, with more start-up and small companies in the Asia-Pacific region, the outsourcing of GFRP production is increasing with new manufacturing facilities being built.
The application of GFRP is shifting toward comforts. This, in turn, drives the technological developments of GFRPs to ensure that products meet global standards.
Glass-Fiber Reinforced Plastics: Technologies and Global Markets provides an up-to-date analysis of recent developments and current trends. It identifies significant drivers of revenue growth in specific categories in the GFRP market. The objective is to quantify the projected impact of both internal and external forces that are affecting the global GFRP market today and for the next several years. Revenue forecasts from 2014 to 2019 are given for each major type of GFRP by application and region.
Editors and reporters who wish to speak with the analyst should contact Steven Cumming at steven.cumming(at)bccresearch(dot)com.
About BCC Research
BCC Research publishes market research reports that make organizations worldwide more profitable with intelligence that drives smart business decisions. These reports cover today's major industrial and technology sectors, including emerging markets. For more than 40 years we've helped customers identify new market opportunities with accurate and reliable data and insight, including market sizing, forecasting, industry overviews, and identification of significant trends and key market participants. We partner with analysts who are experts in specific areas of industry and technology, providing unbiased measurements and assessments of global markets. Recently selected as the world's greatest market research company, BCC Research is a unit of Eli Global, LLC. Visit our website at http://www.bccresearch.com. Contact us: (+1) 781-489-7301 (U.S. Eastern Time), or email information(at)bccresearch(dot)com.