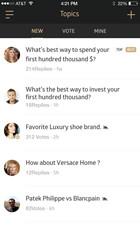 Los Angeles, California (PRWEB) April 28, 2015
#1 millionaire dating app Luxy caters to a very elite social group that requires income verification to join. The CEO and founder Tim, made Luxy so unique that "hectic, thriving people and celebs can find one another without having all the rubbish and quests that make it extremely tough to do well on other websites and applications."
Since its launch in 2014, Luxy has accumulated an abundance of wealthy, successful and attractive singles, who can simply swipe left or right to 'like' or dismiss other users. But Luxy has become much more than a dating app.
Luxy Topics is the latest addition to the sparkling app and is just one of the many ways in which Luxy users can meet and converse with other wealthy singles. Ranging from dating trivia, business advice or simply seeing who is in the local area, Luxy users can post anything they like and reach out to even more elites. Topics also features exclusive news about show casting and auditions, so members are the first in the know. This means that not only are Luxy users able to converse with the most attractive and successful but are also first to hear about exclusive industry news.
Luxy singles can use Topics to initiate conversation and debate on any topic of their choosing or just use the feature to browse. Users can see the profiles of those who have posted or commented and have the chance to send up to three messages to anyone they like - even if the users have not matched. If you want a dating app that offers a slick, sleek and sophisticated service then Luxy is for you.
Topics also includes a Vote feature where users can pose questions to the Luxy community and members can vote in response. This is the perfect way to ask quick and easy questions about millionaire dating, luxury items, holiday destinations, or anything. The way to become acquainted and build relationships with the successful and the beautiful has never been easier. Luxy offers users the optimum opportunity to meet elite singles, anywhere in the world.