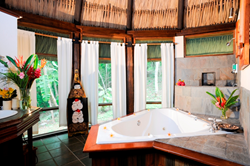 It's great being able to use our experience to help give couples a truly memorable experience. It's literally a labour of love
San Ignacio, Belize (PRWEB) April 26, 2015
A new all-inclusive Belize Honeymoon vacation package that's not just for honeymooners makes a romantic holiday in Belize's rainforests carefree and affordable, according to The Lodge at Chaa Creek's wedding and events coordinator.
And with the limited time offer providing significant savings, now is the time to start planning for a memorable summer idyll, Denise Duran said.
Ms Duran was announcing the launch of the new Belize Summer Romance Adventure all-inclusive vacation package, for which the Lodge is now accepting bookings for June, July and August 2015.
In addition to including lodging, meals, activities and everything needed for a complete Belize vacation for one set price, the new all-inclusive Belize vacation package offers couples substantial discounts, including a free night's stay, Ms Duran explained.
"While the package was designed to create the perfect honeymoon, it is also ideal for a second honeymoon, or just as a way to enjoy an intimate interlude in a gorgeous natural setting," Ms Duran said.
"Each Belize Honeymoon package includes absolutely everything a couple could wish for during a private getaway in an eco-luxe, beautifully appointed cottage room surrounded by tropical gardens. With an infinity pool, fine dining in an airy jungle lodge, a world renown spa and other quality amenities set within a 365-acre private nature reserve, and with healthy activities such as horseback riding, canoeing and hiking, couples can do as much or as little as they wish. It's a rare opportunity to reconnect with nature and each other in an atmosphere of casual luxury," Ms Duran said.
Chaa Creek's all-inclusive Belize vacation packages include the eco resort's signature thatch-roofed accommodation, all meals, activities, tours, transfers, staff gratuities and government taxes, she added.
"From the moment we pick guests up at Belize's international airport until we drop them back off, everything is completely taken care of, so the only thing they need to think about is each other," Ms Duran said.
She explained that the summer discounts were being offered to introduce more people to the advantages of a summertime romantic holiday in Belize.
"Many people don't realise how pleasant a summer vacation in Belize can be. The less crowded, more leisurely pace is perfect for couples who want to relax and spend more time together. With the Caribbean Sea and Belize's vast unspoiled jungles generating refreshing breezes, the average year round temperature stays at around 84° F (29°C), which is perfect for things like swimming and horseback riding during the day and cuddling up together at night.
"Chaa Creek has the reputation as Belize's "Destination within the destination" because there's so much to do right here, and our packages are structured to be flexible enough to allow couples to craft their own perfect vacation.
"To be honest, our reputation as adventure romance specialists has been built largely on word of mouth, and by offering these discounts, including having the fifth night free when paying for four, we're hoping to spread the word even further."
Ms Duran said that she doesn't know of another Belizean resort that has a dedicated adventure romance team that caters to couples.
"I started out as our destinations wedding planner, and the role just grew along with interest in romantic holidays. We now have an entire team to look after couples, to answer questions, arrange things like picnics next to Maya temples, sunset canoe trips down the Macal River, making sure that there are flowers and chocolates in the rooms, advising on Spa treatments such as couples' massages and the delicious Chocolatissimo body wrap and suggesting other things of interest to lovers.
"It's great being able to use our experience to help give couples a truly memorable experience. It's literally a labour of love," she added.
Ms Duran said that, to take advantage of the special summer discounts, couples can contact their travel agents or enquire directly through The Lodge at Chaa Creek.
"Just make sure you let them know that you want to take advantage of this years' Belize Summer Romance Adventure, and we'll do the rest," Ms Duran said.
The Lodge at Chaa Creek is a multi award winning eco resort set within a 365-acre private nature reserve along the banks of the Macal River in Belize.
ENDS