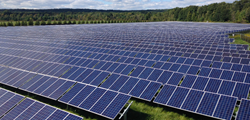 Wayne, Pennsylvania (PRWEB) April 26, 2015
Dynamic Energy Solutions has announced a Solar Project Acquisition Program for the purchase of commercial scale solar facilities that are planned to achieve commercial operation by the end of 2016. Dynamic has available institutional investor funds in excess of $125 million for this initiative. The goal of the program is to afford solar project developers greater access to funding and development resources to build commercial solar projects.
The primary focus of the Solar Project Acquisition Program is commercial scale solar projects, 500 kW to 3 MW in capacity, located in the Northeast and Mid-Atlantic Regions. Other geographies will be considered on a special basis.
Dynamic Energy, founded in 2007, has developed, financed and completed commercial and institutional solar projects in states including Massachusetts, Connecticut, New York, New Jersey, Pennsylvania, Delaware, and Maryland.
About Dynamic Energy
Dynamic Energy is a turnkey energy solutions provider that develops, finances, engineers, constructs and operates projects for corporate, industrial and institutional customers. Dynamic builds energy projects that reduce customer expenses, improve operating efficiency, provide an attractive return on investment and achieve sustainability goals. For more information please visit http://www.dynamicenergyusa.com or call 1-877-809-8884.