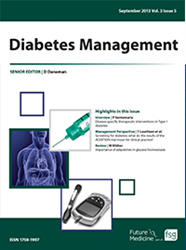 Dr. Alan Moses reveals how Novo Nordisk is working to provide sustainable, tailored solutions -- on a global scale – to the diabetes pandemic
(PRWEB UK) 5 May 2015
In an interview with Diabetes Management, Alan C. Moses, MD, a leading expert in diabetes research, advocates for new clinical solutions that recognize not just the medical, but the lifestyle needs of patients. Dr. Moses, who serves as Senior Vice President and Chief Medical Officer for Novo Nordisk A/S, considers patient-centered care to be critical to the future of diabetes drug development and patient care strategies. One of the world's most prevalent chronic diseases, diabetes affects an estimated 382 million people worldwide. The journal is published by Future Medicine, an imprint of Future Science Group.
In the interview, Dr. Moses provides details on his clinical and academic research background, his transition to industry research, and his personal motivation to improve diabetes care, drawn from his own experiences as the father of a child with type 1 diabetes.
"From personal and clinical experience I have seen firsthand how critical it is to match medicines to the individual and social needs of patients," said Dr. Moses. "The clinical efficacy of a treatment will always play an integral role, but it is less important to the individual patient than how they can manage their day-to-day lives. We try to incorporate this into the drugs we develop, how we test them, and how our labelling will allow physicians to use them."
Dr. Moses also expands on how Novo Nordisk is exploring custom solutions to offer patients better therapies, or better approaches to therapies, that meet their unique needs. The company is working towards this goal through both the drugs in its development pipeline and through involvement in the WHO's Action Plan for the Prevention and Control of Non-Communicable Diseases. Specifically the company has launched the Cities Changing Diabetes program, a commitment to tackle the growing urban diabetes epidemic, and the Base of the Pyramid project, which is a partnership with faith-based organizations designed to improve diagnosis, education, and treatment options for the working poor.
"Dr. Alan Moses reveals how Novo Nordisk is working to provide sustainable, tailored solutions -- on a global scale – to the diabetes pandemic," said Daphne Boulicault, Editor of Diabetes Management.
Click here to read the complete article in Diabetes Management.
Article: Moses A. Novo Nordisk's Senior Vice President provides insight into diabetes care. Diabetes Management. 5(2), 57-61 (2015).
--ENDS--
About Future Science Group
Founded in 2001, Future Science Group (FSG) is a progressive publisher focused on breakthrough medical, biotechnological, and scientific research. FSG's portfolio includes two imprints, Future Science and Future Medicine. Both publish eBooks and journals. In addition to this core publishing business FSG develops specialist eCommunities. Key titles and sites includes Bioanalysis Zone, Epigenomics, Nanomedicine and the award-winning Regenerative Medicine.
The aim of FSG is to service the advancement of clinical practice and drug research by enhancing the efficiency of communications among clinicians, researchers and decision-makers, and by providing innovative solutions to their information needs. This is achieved through a customer-centric approach, use of new technologies, products that deliver value-for-money and uncompromisingly high standards. http://www.futuresciencegroup.com