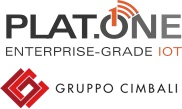 La Cimbali's experience and passion drives it to produce the most innovative coffee machines in the market today
Palo Alto, California (PRWEB) April 28, 2015
PLAT.ONE is proud to announce that Gruppo Cimbali has chosen its Enterprise-Grade Internet of Things (IoT) Application platform to power the next generation of La Cimbali coffee machines.
By combining one of the most-recognized and respected brands in professional coffee with the leading IoT application platform, Gruppo Cimbali is creating a superior customer experience and even more delighted consumers. The PLAT.ONE Connected Coffee solution enables Gruppo Cimbali and their machine operators to track the performance of their machines; and support advanced capabilities like auto-replenishment of supplies, predictive maintenance and drive innovative 'pay as you brew' business models.
"La Cimbali's passion for coffee drives it to produce the most innovative and highest-quality coffee machines on the market. Their operational requirements demanded an enterprise-grade, distributed IoT platform to connect and manage the significant number of machines being deployed globally," stated Filippo Murroni, CEO of PLAT.ONE. "Our Edgeware technology was uniquely suited to meet their high-reliability requirements."
"The Internet of Things project developed through strategic partnership with PLAT.ONE has allowed us to achieve a competitive advantage, enabling us to offer our customers advanced tools able to accompany them in their path to growth and to deliver better service and maintenance. Technological innovation allows us to continue to grow and to convey and communicate the values of Made-in-Italy in the world, "stated Simona Colombo, director of marketing and communication of Cimbali.
Gruppo Cimbali shares the machine data with its distributors to provide proactive maintenance and resupply services. The next phase of this will support coordinating the surrounding coffee eco-system to drive 'just-in-time' delivery of all coffee essentials – creating a 'Connected Coffee' community. The combination of resulting supply chain efficiencies and improved service will not only maintain La Cimbali's legendary service, but also improve its return on investment and reduce it environmental footprint.
About Gruppo Cimbali
Cimbali designs, manufactures and distributes professional coffee machines and equipment dedicated to cafeteria branded LaCimbali, Faema, Casadio and Hemerson and provides the market with the widest range of solutions for the bar and catering industry, combining reliability, ease of use , design, high performance and quality in the cup.The Milan-based group that exports about 80% of the production in more than 100 countries has always been committed to technological innovation as a differentiator to respond effectively to the needs of a changing market.
About PLAT.ONE
PLAT.ONE is a renowned developer of enterprise-grade software and industrial solutions. Since its release in 2011, PLAT.ONE has established itself as the platform of choice for connected applications in major telecoms, system integrators and global industrial equipment companies. PLAT.ONE's distributed architecture, integrated development and deployment features, and native security and data-aware operations reduce application development time while providing Enterprise-Grade, non-stop operations. Businesses use PLAT.ONE to deploy innovative connected solutions ranging from smart equipment and transportation to smart cities and manufacturing. For more information, please visit our website at http://www.platone.io or follow us on Twitter at @PLATONEIoT.
# # #