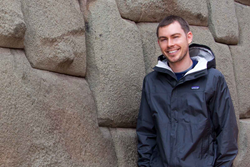 "We're encouraging Matt to take chances and push boundaries through mobile products and experiences." -- Michael Maginnis, MJD President
San Deigo, CA (PRWEB) April 28, 2015
This week, as Apple Watch reaches consumers' wrists and connected devices are increasingly ingrained in our lives, digital innovation agency MJD again demonstrates its pioneering ambition to lead across today's mobile products and experiences, by hiring veteran engineer and mobile developer Matt Morey as director of mobile engineering.
Morey is a highly regarded thought leader in the iOS development community who strives to share his passion and knowledge with others, most recently as author of the first-ever technical book for development on the Apple Watch: "WatchKit by Tutorials: Making Apple Watch Apps with Swift."
"Matt will lead MJD's cutting edge mobile development solutions team, and we're encouraging him to take chances and push boundaries further through mobile products and experiences," says Michael Maginnis, president and co-founder of MJD. "He's a great fit because he's a technical guru who thinks about users and not just the latest tech, but also because he's an avid surfer and snowboarder who embraces the lifestyle and work/life balance we encourage at MJD's San Diego and Boulder offices."
Maginnis says Morey's initial focus will be on wearable applications and mobile products, and that Morey will be leading MJD's new mobile connected car account, which will launch an Apple Watch product feature this summer.
"Mobile engineering is evolving, and the way we interact with these devices is changing faster than ever before," Morey notes. "This isn't about a 'smart watch' or any specific latest product, this is about progressive movement towards things that don't even have screens — what that means I'm not even sure yet, I just want to be there first. And that's where MJD wants to be, too, which is why I'm here."
A Summa Cum Laude graduate with a Masters in Electrical and Computer Engineering from the University of Florida, Moray was most recently lead developer at mobile agency ChaiOne. Prior to that, Morey held positions at Texas Instruments and GE.
Throughout his career, Morey has led numerous successful mobile projects for Fortune 500 companies internationally and spoken about core data, privacy and data collection at conferences around the world. He and his work have been recognized in Wired, ReadWrite, Hackaday and elsewhere.
Morey is the most recent senior level hire for MJD as the hot SoCal-based shop rounds out its leadership team and expands operations to Boulder, CO. Last month, the agency added Creative Director Lindsey Harris to bolster its growing reputation as one of the nation's top digital innovation agencies, launching buzz worthy digital products for The Grammy Awards and Stride-Rite, while landing new accounts for Disney Imagineering, Viper and Qualcomm Ventures.
About MJD
MJD is building the new digital world around us. MJD creates award-winning digital experiences and products across web, mobile and experiential platforms that engage, inform and drive results. Their unique focus on user experience, creative design, and technology solutions has enabled them to work with some of the world's best known brands and cutting-edge startups. Clients include Oakley, Disney, Red Bull, P&G, the Grammy Awards, Falken Tire, Stride Rite, Legendary Pictures, Vail Resorts, and Qualcomm. Visit http://www.mjdinteractive.com to learn more.