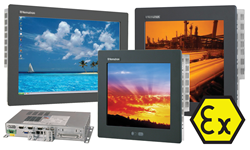 Receiving our ATEX 1374X certificate of compliance on open construction, panel mount automation products gives us a unique product offering that we are excited to share with the global marketplace.
Ann Arbor, MI (PRWEB) April 27, 2015
Nematron, a Division of Comark, is pleased to announce the completion of ATEX Zone 2 & 22 safety compliance testing on its' iPC-Series industrial computers and M-Series industrial displays. Nematron brand PCs and monitors have traditionally been known to provide world-class UL agency compliance with Class I & II, Division 2 hazardous locations approvals. However, many industries requiring CID2 certifications are now doing business globally, including Europe, which demands a different set of international safety standards to meet. This demand for global safety compliance is the driving force behind the growing demand for ATEX certification testing here in North America, and Nematron is leading the way with the first approved ATEX-compliant, open construction, panel mount industrial computers and displays in the industry.
Launched in 2007, the M-Series Flat Panel Monitor family is Nematron's flagship line of hazloc approved, rugged industrial displays with screen sizes from 12.1" up to 22.0" widescreen. The series also includes the newest sunlight readable model, M1500SRT, a high-performance 15.0" LED backlit monitor with 1500-nits of brightness in direct sunlight. Each M-Series model is panel mount ready and comes standard with 5-wire analog resistive touchscreen, isolated 24 VDC power input, and meet the required ATEX Zone 2 & 22 standards of compliance.
The Nematron iPC-Series was launched in 2012 and continues building momentum in many industrial control and manufacturing industries. The iPC-Series includes four integrated units with display sizes of 12.1", 15.0", 17.0" and 19.0", as well as a non-integrated stand-alone node computer (nPC300). iPC-Series industrial automation computers continue to prove themselves highly reliable and durable. With proper installation within an ATEX-approved enclosure, Nematron iPC-Series industrial computers comply with the safety and agency standards for ATEX Zone 2 & 22 installations worldwide.
"Receiving our DEMKO ATEX 1374X certificate of compliance on our iPC-Series and M-Series products gives Nematron something that has never been done before with open construction, panel mount automation products," explains Ralph Damato, VP – Product Management of Nematron. "We are very proud of this accomplishment and excited to bring this new certification to the global marketplace," continues Damato.
Continuing Nematron's tradition for meeting safety agency compliance standards, the iPC-Series and M-Series products are rated for operation in 0°-55° C environments and have UL and cUL 508, as well as Class I & II, Division 2 and European CE approvals on all models. For more information contact Nematron at sales(at)nematron(dot)com.
About Nematron
Nematron is a Division of Comark, and has produced heavy-duty, high reliability Industrial Automation Products for over 30 years. Nematron operates from their North American headquarters in Ann Arbor, Michigan. Complete service and repair capabilities for current and legacy products are offered from their Ann Arbor, Michigan location. For sales or technical support on any of their hardware or software products call (734) 214-2000. Additional information can be obtained by consulting http://www.nematron.com.
About Comark
Comark designs and manufactures high-performance, ruggedized computer and display solutions for mission critical automation and control applications that service commercial, industrial, and government applications. The Company is driven by 35 years of innovative solutions with over 80,000 systems fielded. Comark is located in Milford, MA. http://www.comarkcorp.com.