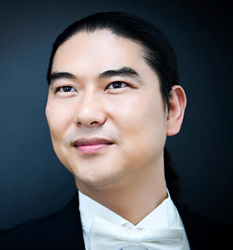 Hyong Sik Jo, the amazing Bass will sing the part of Leporello.
Bound Brook, NJ (PRWEB) April 28, 2015
Eastern Opera of NJ presents Mozart's Powerful Musical Masterpiece Don Giovanni
Eastern Opera of NJ (EONJ) begins its 3rd Season with Wolfgang Amadeus Mozart's Don Giovanni. An arrogant nobleman seduces every woman he meets until he encounters something he cannot kill, beat up, dodge, or outwit. Mozart's dramatic genius pervades in Don Giovanni as he weaves humor, melodrama and supernatural elements into a powerful musical masterpiece.
Don Giovanni will be sung in Italian with orchestra, beautiful costumes and fully staged. Four performances are scheduled for May 2, 3, 9 and 10, 2015 at the Brook Theater, 10 Hamilton St, Bound Brook NJ. Tickets are on sale at the Eastern Opera Box Office, online at easternopera.org or by phone at (908) 566-5708.
Don Giovanni is based on the stories of Don Juan with libretto by Lorenzo Da Ponte. As the legend goes, at the height of his shameless career, Don Juan seduced a noble woman, killed her father who tried to avenge her, went on to invite the father's effigy to dinner and when the effigy arrived for dinner the stone guest perpetuated Don Juan's death.
Mozart's opera has been described as a comedy, and it has any number of funny moments. But there's far more to Don Giovanni than the humor, just as the notorious Don is more than just an unprincipled, single-minded ladies' man. The opera's comic element is driven by Giovanni's deceitful plots and antics. But both Lorenzo da Ponte's libretto and Mozart's unrivaled music ensure that the grim penalties of Giovanni's actions are as evident as their humor.
The result is a troubling vagueness that's at the core of Mozart's masterpiece. The Don's personality is so charming that audiences actually like him, even as his dark side becomes more and more apparent. Still, when he finally accepts a personal invitation to hell, and his enemies express joy and it is difficult to blame them.
Don Giovanni has been commonly considered as the greatest opera ever written. That is a pretty audacious statement, but however you rate it, Mozart's opera is an intense mixture of daunting social tragedy and stirring humor, set to music of boundless genius.
Dr. Robert Butts, Eastern Opera's founding Music Director and Principal Conductor, will conduct Don Giovanni. Dr. Butts conducted Madama Butterfly, Otello , Die Fledermaus, Carmen, La bohème and a double bill I Pagliacci and Mark Twain and the General (an opera he composed) with Eastern Opera during its first two seasons. He serves as Music Director and Conductor with The Baroque Orchestra of New Jersey, BONJ Opera, Eastern Opera Company of New Jersey and In Mid Air Productions. He teaches and lectures at Montclair State University, The College of Saint Elizabeth, Drew University and The New Jersey Council For the Humanities. In addition, he develops courses and individual lectures for Westfield Adult School, Leisure Learning, Lifelong Learning, and other adult and continuing education programs across Northern New Jersey. He has done pre-concert talks for NJPAC, The New Jersey Symphony, The New Jersey State Opera and Elderhostel.With The Baroque Orchestra of New Jersey, he has developed the broadcast video series Concerts and Conversations. He is a recipient of the Arts Council of the Morris Area Arts Professional of the Year and has been a finalist for the 2010 and 2011 American Prize for Orchestral Conducting, the 2011 and 2012 American Prize for Opera Conducting, and the 2011 Vytautas Marijošius Memorial Award. He was awarded the 2011 American Prize Citation for outstanding educational and outreach work in music.
Singer, Director Karole Lewis, directs Eastern Opera's Don Giovanni, which she describes as "a dichotomy between good and bad," says Lewis. "The story of Don Juan has always been popular. Mozart captured the frivolity of his infidelity and how the impact of his actions affected others. The music is wonderful both to direct and sing."
Lewis' directing prowess expands a large range in repertory. She has directed with Eastern Opera, Opera at Florham, The Baroque Orchestra Summer Festival, Livermore Valley Opera (in CA) and Monterey Opera (in CA). This will be her second production directing Don Giovanni. Ms. Lewis is also an accomplished singer and has performed leading operatic roles in California with Opera San Jose, Oakland Opera, West Bay Opera, Monterey Opera, Livermore Valley Opera, and Santa Cruz Bay City Opera—a company she co-founded and for which served as General Director. She has sung major soprano roles in Madama Butterfly, Die Fledermaus, Otello and Carmen (with Eastern Opera), La Traviata, La Boheme, Le Nozze di Figaro ,Tosca, L'Elisir d'Amore, Carmen, I Pagliacci and Mark Twain and the General, among others. Karole was a finalist in the Metropolitan Opera's Western Regional Finals.
The opera feature the talents of several singers from New Jersey and New York. The title role of the Don is shared by Ted Dougherty and Jason Adamo. Both recently sang Silvio in I Pagliacci last season. Hyong Sik Jo, the amazing Bass will sing the part of Leporello. Jo was recently seen as Coline in La Boheme. Donna Anna will be sung by Karole Lewis and Justyna Giermola will sing Donna Elvira. Both ladies were recently in La Boheme: Lewis as Mimi and Giermola as Musetta. Peter Lewis joins the cast as Don Ottavio. Lewis is no stranger to Eastern Opera and recently sang Rodolfo in La Boheme. Zerlina will be sung by Noelle Arteche (debut) and Kimberly Lewis. Kim Lewis sang Mercedes in Carmen in last year's season. Masetto will be sung by Dmitri Zigrino who sang Rodolfo in La Boheme. Don Kalbach will sing the part of Il Commendatore.
About Eastern Opera
Eastern Opera Corp. is a 501 (c) (3) nonprofit corporation organized and operated exclusively for charitable purposes. Specifically, Eastern Opera has been formed to encourage and instruct individuals for the purpose of improving and developing their capabilities, to educate the public on subjects useful to the individual and beneficial to the community, and to promote the arts and culture to the local communities. For more information contact Lou Kersey at loukersey(at)easternopera(dot)org or visit http://www.easternopera.org.