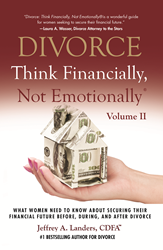 While many people know that social networks contribute to breakups, they don't realize that they can also have unforeseen consequences in divorce settlement negotiations
New York, NY (PRWEB) April 28, 2015
These days, when something happens in our lives – large or small – we post about it online for our friends and family to see. As any divorce attorney will tell you, this can either help or hurt women getting a divorce.
"While many people know that social networks contribute to breakups, they don't realize that they can also have unforeseen consequences in divorce settlement negotiations," says Jeffrey A. Landers, a divorce financial advisor and author of Divorce: Think Financially, Not Emotionally® Volume II.
In fact, according to the American Academy of Matrimonial Lawyers, 81 percent of its members have used or encountered evidence taken from social media websites. Two-thirds of that material comes from Facebook.
Landers, founder of Bedrock Divorce Advisors, LLC, a divorce financial advisory firm that works exclusively with women throughout the United States, offers the following advice for leveraging social media while keeping it from becoming a liability in a divorce.
1. Understand that e-mail and text messages can be admissible evidence in court. Save everything you receive from your husband. Conversely, don't write anything you wouldn't want a judge to read.
2. If you think your husband is hiding assets, check his social media activity. Even if he has blocked you, it's likely you have mutual connections who might tell you about updates related to expensive toys or a lavish lifestyle.
3. Check his friends' social media updates for revealing information. Maybe his pals shared pictures of their trip to Vegas in his new BMW or his girlfriend tweeted about an expensive gift after he pleaded in court that he's broke.
4. Watch for information online that conflicts with what your husband says in legal documents. Any discrepancies, such as living a lifestyle that he shouldn't be able to afford, can be used to undermine his credibility in court.
5. Check dating sites. Don't presume he's smart enough to lay low. Compare what he says in his profile to what he's saying about himself in court.
6. It works both ways, so be squeaky clean online. Exercise caution, discretion, and good judgment because he can use anything he finds about you in the same way you can use what you find about him.
7. If you can't keep anything to yourself, deactivate your social media accounts until after the divorce. You know who you are. If you can't keep a secret and might reveal information that could be used against you, protect yourself by avoiding all social media.
8. Proceed with caution. Not every "friend" is a friend, not every follower is a supporter, and not every connection is an ally. You might delete something you shouldn't have posted, but someone else might have saved a screenshot of it.
Landers offers additional tips in Divorce: Think Financially, Not Emotionally®, Volume II, which continues the conversation he started in Divorce: Think Financially, Not Emotionally®, Volume I. Both books use straight talk and real-life examples to explain important financial matters every divorcing woman needs to understand. Learn more at http://www.ThinkFinancially.com.