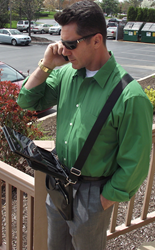 "Who needs another sleeve? What is truly needed is a way to carry and use tablets while on the go, and FlipCase hits all the marks."
Philadelphia, PA (PRWEB) April 28, 2015
FlipCase for Tablets is very different and recognized as the ultimate in tablet carrying cases. "This tablet case is truly innovative and refreshing in a stale market," says Stacey Mitchell, Co-Founder of FlipCase International. "Who needs another sleeve? What is truly needed is a way to carry and use tablets while on the go, and FlipCase hits all the marks." All the marks being: easy to use, convenient, protective, and multi-functional.
FlipCase for Tablets is full of great features including the signature "stand and swipe" capability which enables hands-free use while standing. Other features are the removable platform that extends and rotates 360 degrees, storage pockets, stylus holders, additional kickstand, and more. The signature 'stand and swipe' capability - allowing for hands-free use while standing - is the game changer.
"Seeing is believing, and when you are able to experience all the features of FlipCase, it becomes obvious that no other carrying case on the market even comes close to a FlipCase," adds Mitchell. "The protection alone is paramount, and the freedom it provides to keep your hands open to do other tasks is so important to those who work on their tablets everyday."
FlipCase for Tablets can also be configured quickly to suspend around any headrest in a car, plane, or train putting tablets into perfect viewing position. FlipCase fits tablets from 9" up to 11" and is an official "Designed for Surface" carrying case accommodating Surface 2 and 3, and Surface Pro 2. For iPad fans, FlipCase for Tablets is a perfect fit for all of the iPads. Click the link to see how FlipCase for Tablets works: https://youtu.be/zFyABrj4txg
Pre-order here to receive FlipCase before May 30th. Anyone pre-ordering FlipCase through http://www.theflipcase.com will receive free shipping within the US. Shipping outside the US is possible for an additional fee.
For laptop users, there is a FlipCase for you, too. FlipCase for Laptops is available in three sizes to accommodate most 11.6" up to 15.6" laptop computers and also features the patented signature "stand and type" capability. Work right from the case, standing or sitting, with the original flipping carrying case, FlipCase. See how FlipCase for Laptops works here: https://youtu.be/TbcqFuzFzaw
FlipCase International is based in the Philadelphia region and is a company focused on making mobile computing easier. Founders Kevin and Stacey Mitchell, known as "Team Mitchell" brainstormed the patented hinge system that makes a FlipCase a "flip case" and allows for "stand and type" and "stand and swipe" capabilities. FlipCases are patented in the US and also Internationally. FlipCase is a registered trademark.
For more information, please contact Stacey Mitchell at StaceyMitchell(at)theflipcase(dot)com or 484-645-4880.