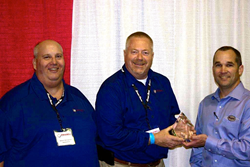 "We're excited to be able to offer SmartTruck's cutting-edge products to our customers." -Dennis Van Lannen, President/CEO of Trudell
GREENVILLE, S.C. (PRWEB) April 24, 2015
SmartTruck Systems, the award-winning aerodynamic solutions provider for the trucking industry, announced today that Trudell Trailers has been named the first recipient of its inaugural "Dealer of the Year" Award.
Trudell is a leading resource in the U.S. Midwest for semi-trailer sales, rentals, service and aftermarket parts, with full-service locations in Wisconsin, Michigan, and Minnesota. The company offers its customers SmartTruck's full line of drag-reducing, fuel-saving products including its Undertray and TopKit solutions.
"We are delighted to honor Trudell with the first-ever 'Dealer of the Year' Award in recognition of their outstanding sales performance and enthusiastic support of SmartTruck products over the past year," said Steve Smith, SmartTruck VP of North American Sales. "We are particularly pleased to give this recognition to a company that shares our mission to provide customers with the best products and services, and honor each customer relationship."
"Trudell is proud to receive this award from SmartTruck, and especially to be its first recipient," said Dennis Van Lannen, President/CEO of Trudell. "We're excited to be able to offer SmartTruck's cutting-edge products to our customers. The trucking industry is constantly looking for new ways to improve efficiency and lower operating costs, and we look forward to continuing our successful relationship with SmartTruck in the future."
About Trudell Trailer Sales:
Trudell Trailers is the Midwest's leading resource for semi-trailers, including sales of new and used trailers, rental and leasing, maintenance and repairs, and heavy-duty aftermarket parts. Founded in 1971, Trudell Trailers has full-service facilities in Green Bay and Milwaukee in Wisconsin, Minneapolis, and Grand Rapids, MI. For more information, visit http://www.trudelltrailers.com
About SmartTruck Systems:
Building on its aerodynamic background in the aerospace, motorsports and automotive industries, SmartTruck is bringing the next generation of aerodynamic products to the trucking industry. SmartTruck's TopKit Fairing System was recently selected as an HDT 2015 Top 20 Product, and performance verified in an independent study conducted by the SimCenter at the University of Tennessee at Chattanooga. SmartTruck is headquartered in Greenville, S.C. For more information, visit the http://www.smarttrucksystems.com.