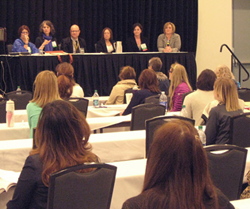 The annual AOTA convention is a fantastic way for the Foundation to connect with occupational therapy professionals from across the country
Denver, Colorado (PRWEB) May 26, 2015
The Sensory Processing Disorder (SPD) Foundation, the nation's leader in SPD research and education and STAR Center, the premier treatment center for SPD, announces presentations at the American Occupational Therapy Association (AOTA)'s 95th Annual Conference and Expo. The event took place April 16 to 19, 2015 in Nashville, Tennessee.
The AOTA Annual Conference & Expo offered over 900 educational sessions and an Expo, providing opportunities to network with leaders and innovators throughout the industry. Over 9,000 occupational therapy professionals and exhibitors attended.
Sensory Processing Disorder is a neurological disorder that disrupts the way an individual processes and responds to sensations. Individuals with SPD may over- or under-respond to one or more sensations (e.g., a loud sound, or light touch), crave sensations or may have problems with motor skills and coordination. SPD affects more than four million children in the United States alone—an average of one child in every classroom. SPD is often misdiagnosed as ADHD, Generalized Anxiety Disorder, or Autistic Spectrum Disorder. Sensory-based challenges can impact a child's academic performance, concentration, playing with others, motor skills and handwriting, response to loud sounds or being touched, speech, language and communication and behavior.
Lucy Jane Miller, PhD, OTR/L, FAOTA, founder of the SPD Foundation and STAR Center and colleagues were selected to present a pre-conference institute, "A Paradigm Shift for Treatment and Research in Sensory Processing Disorder," which demonstrated a novel treatment approach that is effective in improving participation in daily life. The approach showcased the intensive treatment model implemented at the STAR Center located near Denver, Colorado. Over 400 families come to STAR Center each year, with almost 50% from states outside of Colorado and other countries. The program also reviewed research initiatives by the SPD Foundation and Vanderbilt University at the STAR Center and on its sensory playground to assess treatment effectiveness. Dr Miller was joined by Karin Buitendag, MOTR; Stephanie Capshaw, OTD, OTR/L; Sarah A. Schoen, PhD, OTR/L, from STAR Center/SPD Foundation, Stephen Camarata, PhD, from Vanderbilt University, and Lisa Porter, OTR/L, CDMS, from Sensory Kids. Over 100 attendees registered for this fee-based course, making it one of the largest attended preconference institutes at AOTA in years. This program is now available online at the SPD University.
The SPD Foundation research team consisting of Sarah Schoen, PhD, OTR/L, Joanne Flanagan, ScD, OTR/L and Lucy Jane Miller, PhD, OTR/L also presented a poster entitled, "A Retrospective Pre-Test/Post-Test Study of OT Intervention for Children With Sensory Challenges." This poster demonstrates the effectiveness of the STAR model, a sensory and relationship-based, intensive OT program that pairs direct treatment with parent education and coaching, thus advancing evidence-based practice.
"We are excited that therapists and professionals unable to attend the conference can now access this great presentation," said Sheryl Benjamin, Executive Director. "It is a great way to stay current on all of the advancements and innovations within this continually evolving profession."
About the Sensory Processing Disorder Foundation
The SPD Foundation, a Colorado 501(c)(3), is the world leader in research, education, and awareness for Sensory Processing Disorder, a neurological condition that disrupts the daily lives of more than 4 million Americans. The SPD Foundation offers educational programs, conducts SPD research, and provides resources for parents worldwide. Dr. Lucy Jane Miller, widely recognized as a leader in SPD research worldwide, founded the SPD Foundation in 1979. The SPD Foundation provides hope and help to individuals and families living with SPD. For more information, visit SPDFoundation.net or call 303-794-1182.