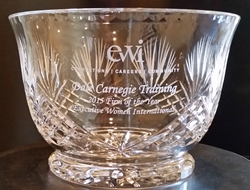 Birmingham, Alabama (PRWEB) April 26, 2015
For over 70 years, EWI (Executive Women International) has been a leader in business networking through member representatives. They have been a powerful organization for entrepreneurs, business executives and industry leaders.
They now move in to the next phase of EWI, one that is young, fresh, bright and representative of the full spectrum of ideas that empower the workplace, drive business forward and connect all of us together.
2015 Firm of the Year
Representatives were asked to nominate a Member Firm that has shown extraordinary commitment and support to the Birmingham Chapter of EWI in the last 12 months. Past winners include: Apex Valet, Altec, Inc., Royal Cup, The Federal Reserve Bank, and Vulcan Materials.
This year's award was presented to Dale Carnegie Training of Birmingham, a firm who exemplifies the core beliefs of the EWI. "The winning firm continues to provide our Chapter with quality programs that enhance the professional development of our representatives," says Gale Renta, Executive Assistant representing Member Firm the United Way of Central Alabama. "This firm has stepped up to the plate on numerous occasions to provide professional development which is a valuable asset to EWI."
In addition, EWI members cite Dale Carnegie training's representative, Nancy Covert, as being "very dedicated." On receiving this honor, Covert says, "It's an honor to be a part of Executive Women International's Birmingham Chapter. Being able to provide professional development opportunities for our members is a win-win situation. Our members hold key roles in their organizations and further developing their skills enables them to be even more effective contributors in their workplace. So many firms do so much for EWI. I am honored they chose Dale Carnegie Training for this award."
For more about Dale Carnegie Training, please visit http://www.birmingham.dalecarnegie.com.