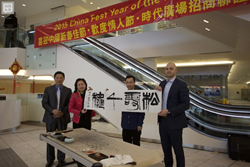 The opportunity to speak with guests and meet owners allows us to make a difference for our clients through community-building.
Vancouver, BC (PRWEB) May 06, 2015
FirstService Residential, the leading residential property management company in Greater Vancouver, was invited by owners of [http://www.aberdeensquare.com/ Aberdeen Square, a new 325-unit mixed-use development in Richmond, BC, to welcome guests during its recent Chinese New Year celebration event. Held on February 14th in the atrium of Aberdeen Square, FirstService Residential representatives were present to speak with more than 800 guests, participate in the new year celebration, and meet business owners. Aberdeen Square, a landmark community in Richmond, Metro Vancouver's fourth largest municipality, recently awarded management of its office space to FirstService Residential.
The Chinese New Year celebration brought together strata owners, families, friends, entertainers and local politicians for an afternoon of traditional Chinese ceremonies and performances. "We are humbled to have been invited by our newest client, Aberdeen Square, to participate in the Chinese New Year celebrations," said Max Gajdel, FirstService Residential B.C. Manager of Business Development. "The opportunity to speak with guests and meet owners allows us to make a difference for our clients through community-building. We look forward to continue serving owners by building great relationships that enhance their lifestyles."
During the celebrations, retail owners opened their doors to guests – from traditional calligraphers to fashion designers, all exhibiting the unique businesses that have opened at Aberdeen Square. "The New Year event was a great success attended by hundreds of owners, family members, and friends, which demonstrated Aberdeen Square's goal of creating a landmark community in Richmond," said Crystal Hou, Aberdeen Square's Strata Council President. "This event demonstrates the popularity of the new centre and will allow us to continue attracting local investments that will make Aberdeen Square a pillar in the neighbourhood."
About FirstService Residential
FirstService Residential in British Columbia is a subsidiary of FirstService Corporation, a global leader in the rapidly growing real estate services sector, one of the largest markets in the world. As the leading property management company in North America, FirstService Residential oversees more than 6,500 residential and commercial associations including 1.5 million residential units and over 50 million square feet of commercial space across three provinces in Canada and 21 U.S. states. The company has more than 12,000 employees driving local market expertise and manages in excess of $6 billion in annual budgets. For more information, visit http://www.fsresidential.com/british-columbia/home.
About Aberdeen Square
Opened in 2013, Aberdeen Square is a 325-unit mixed use development consisting of retail, office, and food court space. The centre is ideally situated in the heart of Richmond; the fourth largest municipality in Metro Vancouver and a community recognized both nationally and globally. Located on the busy commercial corridor of No.3 Road, visitors and employees alike can step off the transit line at Aberdeen Station and enjoy direct access to the property. Likewise, both vehicle and pedestrian access and exposure create a level of convenience that is unparalleled anywhere in Richmond. For more information, visit http://www.aberdeensquare.com/