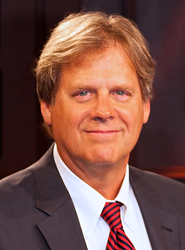 "Justice Kennedy has staked his legacy on building these cases on gay rights." Prof. David Cohen.
(PRWEB) April 27, 2015
Monday April 27 at 7:00 pm on the Philadelphia CNN-News affiliate WFMZ-TV and online now, The American Law Journal presents "Liberty, Justice and... Gay Marriage for All?" The program examines not only the probable outcome of this case but how it may affect gay rights and discrimination at work and in public.
Christopher Naughton welcomes Helen Casale of Hangley Aronchick who argued the Whitewood same sex marriage case in Pennsylvania, family law practitioner Donald F. Spry, II of King, Spry and John Culhane, Professor of Law and Co-Director of the Family Health Law & Policy Institute at Widener Law Delaware.
In the opening feature report, The Legal Intelligencer newspaper's senior staff writer Gina Passarella references a recent Washington Post article that examines the 1975 story of a young Colorado judge invalidating a gay couple's marriage license from a Boulder county clerk. The article described how that judge would later become Supreme Court Justice Anthony Kennedy, who has gone on to author the most "pro-gay" decisions in the high court's history. Passarella interviews Prof. David Cohen of Drexel University School of Law, Prof. Leonore Carpenter of Temple University School of Law, Prof. Kermit Roosevelt of University of Pennsylvania Law School, Julia Swain of Fox Rothschild, Lynne Gold-Bikin of Weber Gallagher and Angela Giampolo of the Giampolo Law Group
"Justice Kennedy has staked his legacy on building these cases on gay rights and will likely author this case now before the Court," says Cohen [but] "he has not gone the route of saying that sexual orientation, like sex or race, is a protected class. He should. The federal government does not have anti-discrimination laws around employment, housing or schooling."
The American Law Journal is the weekly talk-feature program hosted by former New Jersey prosecutor and trial attorney Christopher Naughton. It airs Monday nights at 7:00 p.m. on the CNN- News affiliate in Philadelphia, WFMZ-TV to Pennsylvania, New Jersey, Delaware and online. The program is also available on http://www.YouTube.com/LawJournalTV.
The program addresses consumer, business and constitutional issues with attorneys, law professors, judges, elected officials and others to shed light on current legal news and how the system impacts the everyday lives of citizens. Programs are live or taped in studio and on location in and around Philadelphia. For information, schedules and more, visit LawJournalTV.com.
Adams v. Howerton, 673F.2d 1036 (9th Cir. 1982), cert. denied, 458 U.S. 1111 (1982)
Obergefell v. Hodges, No. 14-556, U.S. Supreme Court, 2015
Whitewood v. Wolf, No. 1:13-CV-1861, 2014 U.S. Dist. Lexis 68771, at *1 (M.D. Pa. May 20, 2014)
"40 years later, story of a same-sex marriage in Colo. remains remarkable," by Robert Barnes, The Washington-Post, Saturday April 18.
http://www.washingtonpost.com/politics/courts_law/40-years-later-a-same-sex-marriage-in-colorado-remains-remarkable/2015/04/18/e65852d0-e2d4-11e4-b510-962fcfabc310_story.html