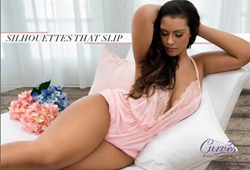 Expanding our product lines to new and unique styles is always a priority for us
Denver, Colorado (PRWEB) April 28, 2015
Angelique Lingerie, a pioneering Denver company specializing in plus size intimates, has today announced the addition of new product lines as the company ramps up for significant growth expected in 2015.
In addition to a brand new collection of plus size intimates for 2015, Angelique Lingerie has also added fresh inventory selections at more diverse price points, ensuring that customers can easily find the perfect option for their needs and their budget.
"Expanding our product lines to new and unique styles is always a priority for us," stated Nadia Bulifa, the company's vice president. "The 2015 collection is our best yet."
New arrivals for 2015 include a wide range of plus size intimates, including trendy lace babydolls, backless teddies, lace bustiers, robe sets, galloon lace skirted garter belts, body stockings and more. For added variety, Angelique Lingerie offers many options in extended sizes up to 6x.
In addition to announcing new product lines, Angelique Lingerie continues to focus on providing outstanding customer service and some of the most expedient shipping in the industry. The firm provides free domestic shipping on all orders, with options for delivery to most countries around the world. The company is proud to offer extremely fast turnaround times, averaging between 12 and 24 hours, with most customers receiving their shipments within 2 to 5 days.
Growth for 2015 will be fostered by more than new product lineups and diverse price points. Angelique Lingerie is celebrating the company's 10-year anniversary this year, and to commemorate this milestone, they are offering exclusive sales and promotions each week.
The company would like to invite everyone to explore the new collection of plus size intimates.
To learn more about Angelique Lingerie, or to view the all-new 2015 collection of plus size intimates, visit http://www.AngeliqueLingerie.com.
About Angelique Lingerie: Founded in 2005, Angelique Lingerie holds to the philosophy that all women should feel sexy and beautiful, regardless of dress size. The company puts customers as their top priority, and strives to provide outstanding customer service and the best product selection possible, combined with free, fast shipping and hassle-free returns.