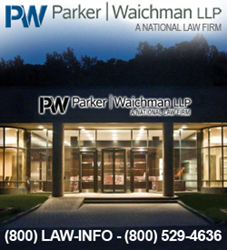 These individuals risked their lives at a time when they were needed most, and with no regard to their health and well-being. They deserve to be covered for their injuries."
Port Washington, NY (PRWEB) April 27, 2015
Parker Waichman LLP, a national personal injury law firm that has spent many years fighting to ensure that the heroes of 9/11 are never forgotten, is commenting on news involving the James Zadroga 9/11 Health and Compensation Act. According to an April 14, 2015 announcement posted by Senator Charles Schumer of New York, a bill was introduced in the Senate to renew the Act and its two programs, the World Trade Center (WTC) Health Program and the September 11th Victim Compensation Fund (VCF). These programs will expire in October 2015 and October 2016, respectively, unless Congress takes action. The bipartisan group was led by United States senators Kirsten Gillibrand (Democrat-New York), Lisa Murkowski (Republican-Arkansas), Charles E. Schumer (Democrat-New York), and Mark Kirk (Republican-Illinois); the bill was introduced with 12 co-sponsors. The WTC Health Programs has enrolled participants in 429 out of 435 Congressional Districts and in all 50 states. "Nearly 14 years ago, we relied on our first responders to lead the rescue and recovery work at Ground Zero, in Shanksville and at the Pentagon—we cannot turn our back now when they need us most," Senator Gillibrand said, according to the announcement.
A separate press release posted on Long Island Exchange indicates that the bipartisan group was joined by New York Congressman Lee Zeldin, who stated, "I'm proud to be here today to help reintroduce The James Zadroga 9/11 Health and Compensation Act. It's essential that The Zadroga Act is extended so that the necessary assistance is provided to our 9/11 first responders. After 9/11, we vowed to never forget; this is a critical way we can remember and help all of those who showed enormous amounts of courage and bravery in the aftermath of the attack on America. That's why I co-sponsor the Act and will be urging all of my colleagues to vote for it."
According to Parker Waichman, extending the Zadroga Act will help many 9/11 responders and survivors who were injured due to the terrorist attacks. "We are pleased that lawmakers are taking action to extend these programs," said Matthew J. McCauley, Senior Litigation Counsel at Parker Waichman. "These individuals risked their lives at a time when they were needed most, and with no regard to their health and well-being. They deserve to be covered for their injuries."
New York City Mayor Bill de Blasio commented that, "We have a moral obligation to continue to stand with them and ensure that they receive the health care and support they need and deserve." according to a release on Noodls.com.
Parker Waichman LLP has actively worked toward passage of the Zadroga Act, which was passed in 2010. The firm's actions include, in part, lobbying efforts and trips to Washington DC that were led by Mr. McCauley, often, along with the firm's clients. Mr. McCauley and Parker Waichman continue to support the Zadroga Act and also continue to support efforts to extend the Act's timeline and its scope.
Parker Waichman LLP, which worked, and continues to fight, alongside Ground Zero first responders, survivors, and their advocates, to help ensure passage of the Zadroga Act and its amendments, vows to continue its efforts to safeguard these heroes and ensure that they receive all of the Zadroga Act compensation they deserve. If you or a loved one are eligible for compensation under the Zadroga Act, and would like assistance with your claim, please visit Parker Waichman's Zadroga Act claims page at yourlawyer.com, or call 1-800-LAW-INFO (1-800-529-4636).