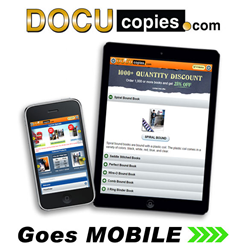 No longer will someone have to say, 'I'll take care of it when I get back to the office,' or 'I wonder if they processed my orders today,'
HUDSON, WISCONSIN (PRWEB) April 27, 2015
This month the online color printing company DocuCopies.com launched their much-anticipated mobile site, making their service more accessible and easier to use than ever from Android, iOS and other mobile phones and tablets.
This puts the power of DocuCopies.com's online ordering system literally at their customers' fingertips. The mobile site condenses all the website's features into an intuitive, easy-to-use interface. Customers can upload files directly from their devices as well as upload from URLs and from their own Dropbox accounts. Reorders are easier than ever using previously uploaded files.
Customers can also track the status of their orders, which is particularly useful on the weekends and outside of the company's customer service hours.
The management at DocuCopies.com are excited for the launch and know the positive effect this move has on user experience and brand trust.
"No longer will someone have to say, 'I'll take care of it when I get back to the office,' or 'I wonder if they processed my orders today,'" says Jeff Corbo, vice president and director of marketing at DocuCopies.com. "Having a dedicated mobile site that looks good and works great helps avoid processing delays and ensures our customers can place their orders as soon as they're needed and receive them in the shortest time possible."
To check out the new mobile site, simply visit http://www.DocuCopies.com from any mobile device to be automatically forwarded to the mobile version.