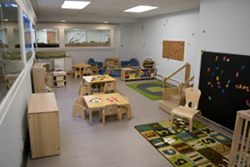 Get $500 Your First Month's Enrollment!
Manhattan, New York (PRWEB) April 28, 2015
All My Children Day Care of NYC is holding an Open House at 112 Ridge St. in downtown Manhattan. Come visit our eco-friendly and modern facility any time between 11-4. Meet staff, teachers, and other families.
All My Children is a nursery and preschool based on various philosophies and principles which encourage learning conditions that enhance thinking and experiential learning, tailoring the environment to accommodate children's needs, and implementing a curriculum that is guided by children's interests, in an eco-friendly way. It is our goal to provide all of our children with the best possible education delivered by motivated, inspirational teachers who have been specially trained to teach an integrated curriculum.
Sign up by May 31 for our Early Bird Special where you can get $500 off your first month's tuition.
Please ask about our Summer Camp programs for children ages 6mo. to 9yr. We offer off-site trips, art programs, exercise, water activities, lunch and snacks, and so much more.