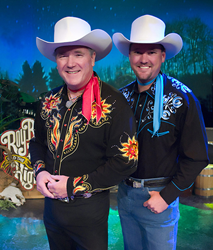 The Wisconsin Music Arts Festival - "Where Music Comes Alive!"
Monroe, Wisconsin (PRWEB) April 26, 2015
On May 14, 15, and 16 the Monroe Arts Center presents the Wisconsin Music Arts Festival (WMAF). The three-day festival will feature Country and Western, Western Swing, and Rockabilly music by some of the best musicians, singers, and songwriters, along with family and children's concerts and workshops. Locations of performances and workshops will be Monroe's Historic Courthouse Square, Monroe Arts Center, and the Monroe High School Performing Arts Center.
Thursday, May 14 at 6:30 pm is the Festival kick-off performance by The Best Westerns. Hailed as "Milwaukee's Western Swing Kings," The Best Westerns band founder and bass violinist Mark Hembree, has performed with Bill Monroe and Randy Travis, and performed the music soundtrack for the movie, "Oh Brother, Where Art Thou." This is a free concert to be held on Monroe's historic Square.
"Sweet Dreams and Honky Tonks: The Music and Lives of Hank Williams, Loretta Lynn, Patsy Cline, and Johnny Cash" will take the stage at 7:30 pm on Friday, May 15 at the Monroe Arts Center. Starring Tom Waselchuk and Jami Lampkins, along with their band The Dang-Its, this entertaining musical revue weaves four of the most famous of country music stars into a show that invites the audience into the private lives of these stars, showcases their hits, and brings back memories in an exciting and new way.
A day-long series of free family and children's take place on Saturday, May 16 at Monroe Arts Center beginning at 10:00 am. Scheduled concerts include singers and songwriters Ken Lonnquist; K.G. and The Ranger; and Monroe's own Rockabillly Junction. Children's music-themed workshops include an introduction to songwriting, building musical instruments, circle drumming, and a drum ensemble recital.
Headlining the Wisconsin Music Arts Festival on Saturday, May 16 at 7:30 pm at the Monroe High School Performing Arts Center is Roy Rogers Jr. and The High Riders. It's an evening of authentic classic cowboy and western, bluegrass, and country music. Roy "Dusty" Rogers entertains with songs and stories of his famous family heritage. Dustin Rogers – son of Dusty and grandson to Roy – joins his father on stage singing in the cowboy tradition of his father and grandfather.
To purchase or for additional information, contact Monroe Arts Center at 608-325-5700 or 888-596-1249, in person at the box office located at 1315 11th Street, or online at http://www.monroeartscenter.com.