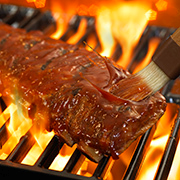 Companies should put their best foot forward by debuting updated, eye-catching custom labels and stickers for their products.
Denver, CO (PRWEB) April 28, 2015
Consumers will be looking for new ingredients and recipes to experiment with on the grill ahead of National Barbecue Month in May, presenting the perfect opportunity for barbecue garnish manufacturers to revamp their bottle labels.
According to the Hearth, Patio and & Barbecue Association's National Barbecue Month Poll, 71 percent of Americans prefer cooking out to eating out - and there are myriad reasons why. Throwing a barbecue means individuals don't have to contend with crowds, follow dress codes or wait for a table to open up, and the only traveling they have to do involves walking into the backyard. Additionally, 70 percent of poll participants believe cooking out helps them cultivate a healthier lifestyle - not only by prompting them to make smarter, fresher food choices but also by encouraging them to spend time outside in the fresh air.
With so many Americans chomping at the bit to kick off National Barbecue Month with a sizzle, now is the time for companies that produce BBQ sauces, marinades, spice rubs and hot sauces to give their custom bottle labels a makeover. Lightning Labels is ready and willing to help.
High-Quality Printed Labels Can Make All the Difference
Lightning Labels understands that food packaging is a major factor in consumer choice. Vibrant, high-quality, professional-looking printed labels can have a significant positive effect on sales, and Lightning Labels has the technology to make BBQ bottle labels look as good as or better than those of the major national brands. Lightning Labels offers a range of materials from which customers can make their selections, with the most popular being standard white BOPP. White BOPP stickers are water-resistant, so consumers don't have to worry about the effects of a sudden downpour outside or the cold conditions of the fridge indoors.
When Time is of the Essence, Order Custom Bottle Labels from Lightning Labels
May is just around the corner, so companies that want to revamp their custom bottle labels in time for National Barbecue Month need to spring into action sooner rather than later.
"It may seem hard to believe, but summer is almost here and that means barbecue season is about to get into full swing," said Scott Proctor, vice president of sales at Lightning Labels. "Companies looking to start off the season strong should put their best foot forward by debuting updated, eye-catching custom labels and stickers for their products."
Following digital printing press approval, Lightning Labels delivers a turnaround time of two to three days. Before you know it, you'll be all set to roll out your new and improved labels.
About Lightning Labels:
Lightning Labels uses state-of-the-art printing technology to provide affordable, full-color custom labels and custom stickers of all shapes and sizes. From small orders for individuals to the bulk needs of big businesses, Lightning Labels is equipped to handle and fulfill custom label and sticker projects of all types. Best of all, like the name implies, Lightning Labels provides a quick turnaround for every customer's labeling needs. Uses for Lightning Labels' custom product labels and custom stickers include food packaging and organic food labels, wine and beverage labels, bath and body labels, and nutraceutical products, such as vitamins, essentials oils, and herbal remedies, as well as event stickers, adhesive window stickers and more. Lightning Labels strongly supports the development of environmentally friendly printing materials and carries EarthFirst PLA, a new kind of green label material made from corn instead of petroleum. While operating as a high-tech printer, Lighting Labels prides itself on its personalized customer service. Lightning Labels provides one stop shopping for all of your custom label needs. For more information and to place orders online, visit LightningLabels.com. For the latest in packaging news and labeling promotional offers, find Lightning Labels on Twitter (@LightningLabels), Facebook, Pinterest, Google and LinkedIn