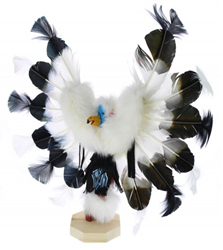 The fact that these are high-quality, legitimate Kachina dolls make them one of the best gifts for any holiday or celebration.
Phoenix, AZ (PRWEB) April 28, 2015
Kachina-Dolls.com is proud to announce their premier launch this past weekend, making the beautiful Native American creation of Kachinas available to the public. The centuries-old art of Kachina doll making has been revered, with people from across the U.S. seeking to add the spiritual dolls to their homes.
With the launch of Kachina-Dolls.com, one can now access authentic Native American Kachinas from Hopi and Navajo artisans. Bringing true Native American Kachina makers to the spotlight, showing the diversity of the historical item with almost entirely hand-crafted Kachinas.
For several centuries, Kachina dolls have been carved from cottonwood, painted, and adorned with cloths, feathers, and ropes to resemble a deity or spirit. The Hopi people were the first to create Kachina dolls in the likeness of worshipped spirits, carefully posing and decorating the dolls to resemble their spirit counterparts. It is believed within the Hopi tribe that for six months of the year, the spirits inhabit these Kachinas and bring their individual powers to the people.
The presence of a Kachina doll brings a different fortune depending on the Kachina. For example, the Rainbow Kachina doll is said to bestow joy and good luck on those who possess the doll. The Ogre Kachinas are meant to bring protection and instill order within a household. Each Kachina doll type is unique in its powers, according to beliefs.
"Every Kachina doll is completely unique, even if it is the same type of the Kachina – the Eagle Kachina for example," said Kachina-Dolls.com spokesperson David Stentson. "The feathers, the paint placement, the wood carving – it can't be exactly replicated, making every authentic Kachina doll truly one of a kind."
Stentson goes on to clarify that every Kachina on the website is completely authentic, made from Hopi and Navajo artisans. "The fact that these are high-quality, legitimate Kachina dolls make them one of the best gifts for any holiday or celebration."
Stentson cites Mother's Day, Father's Day, graduations, weddings, and other events as good times to gift a Kachina. "Because the Kachina is believed to bring fortune, you can go onto Kachina-Dolls.com, read their meanings, and choose one that fits the recipient's personality or dreams." Stentson also mentions that buying a Kachina doll for your self will not diminish its fortune – in fact, having one in your own home may bring you the fortune you desire, as the belief goes.
Kachina-Dolls.com currently has a unique selection of many types of Kachinas, all authentically made and available for sale. Visit Kachina-Dolls.com today to bring a beautiful piece of history into your life.
Contact David Stentson
(888) 659-2227
Support (at) Kachina-Dolls.com