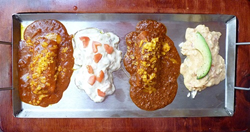 Houston, TX (PRWEB) May 01, 2015
Sylvia Casares, owner and executive chef of Sylvia's Enchilada Kitchen, and the National Spokesperson for the Enchilada, will be celebrating National Enchilada Month throughout the month of May.
"People are always asking me 'What is Tex-Mex? What's the difference between Tex-Mex and Mexican cuisine,'" stated Casares. "The best way to explain the difference is by letting them taste that difference!"
Casares continued, "I believe that Tex-Mex is the first regional cuisine in North America. When the Europeans came to the Americas, they brought cattle, and then later the settlers brought yellow cheese. Combine these ingredients with popular Aztec food items, like masa, tomatoes, chilies and peppers, and you get Tex-Mex. The enchiladas I serve at my three restaurants reflect the different cooking traditions found on the Texas-Mexico border, in Texas, and in Mexico, from McAllen to Lubbock, Crystal City to Sarita, Mexico City to Puebla. Tex-Mex (north of the border) and Mex-Mex (south of the border) style enchiladas."
That is why Casares created The North and South Parilla of Enchiladas, each showcasing four petite signature enchiladas, served with rice, beans, picomole salad and, during the month of May, a slice of Chocolate Tres Leches, for $16.75 per person, plus tax and gratuity. Reservations for parties of six or more are required. For more information, please call 281-679-8300.
The North (Tex-Mex):
(Includes four petite enchiladas)
Refugio
Cheese Enchiladas – blend of Cheddar Cheese with Sylvia's Signature Chili Gravy
Sarita
Enchiladas de Calabacita - Traditional Mexican vegetables, calabacita and corn, sautéed and combined with queso and topped with a light cream sauce
Lubbock
Beef Enchiladas – topped with our meatier Signature Gravy prepared West Texas style
Laguna Madre
Two fresh Crab Enchiladas topped with our creamy seafood sauce
The South (Mex-Mex):
(Includes four petite enchiladas)
Mexico City
Chicken Enchiladas – Made the classic Mexican way and topped with salsa verde and sour cream
Morelia
Enchiladas Rojas – Filled with queso fresco and onions with a spicy red chili sauce
Hidalgo
Enchiladas de Carnitas – Grilled Pork Enchiladas served with either verde sauce or a red sauce topped with avocado slices. Red sauce is HOT!
Puebla
Enchiladas Mole – Tender cooked chicken topped with our traditional Mole Poblano
Restaurant Locations:
12637 Westheimer, Houston, Texas, 77077, Phone: (281) 679-8300
6401 Woodway, Houston, Texas 77057, Phone: (713) 334-7295
1140 Eldridge Pkwy, Suite 100, Houston, Texas 77077, Phone: (832) 230-3842
Hours:
Westheimer: Sun-Thurs: 11 a.m. to 9 p.m.; Fri-Sat: 11 a.m. to 10 p.m.
Woodway: Sun-Wed: 11 a.m. to 9:30 p.m.; Thurs, Fri. & Sat: 11 a.m. to 10:30 p.m.; Sun. Brunch: 11 a.m. to 3 p.m.
Eldridge: Sun-Thurs: 11 a.m. to 9 p.m.; Fri-Sat: 11 a.m. to 10 p.m.
About the Restaurant:
Sylvia's Enchilada Kitchen is famous for its 18 regionally specific enchiladas, fajitas and hand-made corn and flour tortillas. On most Saturdays, Casares teaches hands-on cooking classes to individuals and groups at her restaurant. Sylvia's serves authentic and delicious Mexican cuisine for both lunch and dinner. Their private dining room is available for reservations for business and family gatherings. For more information about Sylvia's Enchilada Kitchen, located at 6401 Woodway and 12637 Westheimer, please call 713-334-7295 or visit their website at http://www.SylviasEnchiladaKitchen.com.