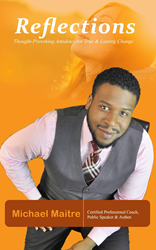 We are beginning to understand that there is more that defines us than just our 9 to 5 jobs.
(PRWEB) April 29, 2015
The current economy is forcing many Americans to endure change in the workplace. More than ever, employees and managers are taking on more responsibilities and performing within shifting infrastructures. Motivational speaker Michael Maitre says there is a positive side to this conundrum.
"We are beginning to understand that there is more that defines us than just our 9 to 5 jobs and that we live in an age where many people have a strong desire for entrepreneurship," says Maitre. As a certified life coach, he advises clients to do the things that are necessary for personal survival, such as having a job or generating income through other means. But he also says today's workers should also fiercely pursue their own path, regardless of whether the opportunity is presented in their current employment.
"I find it interesting how we force ourselves to believe that we must be employed by our purpose. On the contrary many times we infuse elements of our purpose into what we do for a living, but the concept of waiting on pursuing your purpose until you find a way to leave your job is ludicrous," says Maitre. He also believes there is no vacation or timeout from having a purpose, and that every human being has a higher calling. The key to success, he says, is in how people work with what they have to steer toward the greater mission in life. "Where would America be If Martin Luther King, Jr. didn't March and speak to millions in between his duties as Pastor at a Baptist church?" asks Maitre.
Maitre is currently on a tour for his book, "Reflections", which kicked off in February and will feature book signings and seminars across the country. His next stop will be June 13th, at Lake St. Charles Clubhouse in Riverview, Florida.
Maitre teaches that success comes when preparation meets opportunity. The idea is to work on determining one's true purpose through self-examination and map out the steps required to carry it out. He says that being at one's best now, before a promotion and before a transition, can inspire a blueprint for long-term success and change the mindset about the purpose of work. "There are no mistakes in your life. Everything around you shapes who you are and what you were sent here to do. It all comes together to define your legacy," says Maitre.
About Michael Maitre:
Michael Maitre is an inspirational speaker, author and certified professional coach focusing on the corporate marketplace and personal goals. Based in Los Angeles, Maitre has worked with individuals and teams to help them reach their potential. Over the years, he has reached hundreds of professionals with his dynamic message of living fully and with purpose. He is also the author of two books: "Every Muscle of My Soul" and "Reflections: Antidotes for True & Lasting Change". To find out more about what Michael Maitre can do for you, visit MichaelMaitre.com.