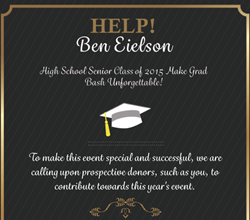 As a community we need to acknowledge and celebrate the great accomplishment of graduating high school students. Adolescence is a difficult time of transitions, change and important decisions; therefore these students deserve to be rewarded.
North Pole, AK (PRWEB) April 27, 2015
With a new charity campaign in North Pole, the Hood Agency looks to raise funds for the senior class at Ben Eielson High School. The Hood Agency is looking for support from its local community to help provide a Graduation Bash to celebrate and acknowledge the academic efforts of these senior students throughout their high school career. Hood Agency seeks to raise $500 to provide a chaperoned, safe, fun-filled evening that 40 students will remember for the rest of their lives. Donations can now be made through the campaign's page at http://www.alaskahoodagency.com/Help-Ben-Eielson-Grad-Bash-2015_18_community_cause.
Through its vast network of loyal customers, staff, business partners, friends and family, Hood Agency will promote the significance of this celebration, giving others the opportunity to contribute, and become active agents of change. The initiative is another display of the agency's commitment to striving to keep those around them always in good hands.
The campaign will be heavily promoted over the course of the next 60-90 days, through the agency's social media channels, email and text message communications, as well as through their monthly magazine, delivered to thousands of households in North Pile, AK, where the agency currently operates. Our Hometown magazine reserves a full page to feature Ben Eielson Grad Bash, and other details. The electronic Flipbook version of the current issue can be accessed here: http://www.alaskahoodagency.com/Our-Hometown-Magazine_41
Any and all the help is valuable and greatly appreciated by the senior class. Donors are encouraged to visit http://www.alaskahoodagency.com/Help-Ben-Eielson-Grad-Bash-2015_18_community_cause and also share the page with friends and family. Those contributing will be acknowledged in the agency's monthly magazine.
The Community Program held by the Hood Agency will continue to feature a new cause every 30-60 days, in an effort to rebuild, restore and offer relief to the community. In many cases, the agency will work with local nonprofit organizations to elect families and individuals in need to receive such support, but an open channel has also been established at http://www.alaskahoodagency.com/Add-Community-Cause_47, so other members of the community can bring to the agency's attention a specific need, known to them. More information regarding past and current campaigns supported by Hood Agency can be found http://www.alaskahoodagency.com/community-cause.
About Hood Agency
Hood Agency's mission as a team is to provide the best insurance and financial services in the industry. Their number one job is to protect the current assets clients have worked so hard for, and to help them invest so they can retire with the right amount of money. Hood's success is measured by customer satisfaction and the value they bring.