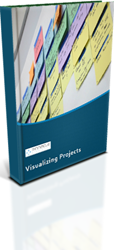 "Visualizing Projects is a great tool to use to learn the basics of why projects are often unsuccessful, and the important steps anyone can take toward fixing them." -Mark Woeppel, President and CEO of Pinnacle Strategies
Plano, TX (PRWEB) April 28, 2015
In a promotion lasting until May 2nd, Pinnacle Strategies is offering their eBook, Visualizing Projects, for free on Amazon for Kindle. The eBook is chock full of practical advice and tips on how to transform projects and improve execution by using Viewpoint Visual Project Management.
In the eBook, readers will learn:

A step by step process to create a visual project board
Why project meetings suck and how to make them productive
How to use a visual project board to successfully build collaboration
How to create and communicate a priority system that everyone can see and agree on
What to do to improve your team's productivity
How to use measurements to get better team performance
The free release of the eBook precedes the launch of Mark Woeppel's, new book, Visual Project Management: Simplifying Project Execution to Delivery On Time and On Budget.
"In preparation of my book's release, I wanted to give my readers a sneak peak at the type of content they can expect to see [in my new book]," Woeppel said. "Visualizing Projects is a great tool to use to learn the basics of why projects are often unsuccessful, and the important steps anyone can take toward fixing them."
Download your free copy of Visualizing Projects until May 2nd.
About Visual Project Management: Simplifying Project Execution to Deliver On Time and On Budget
Projects are rarely delivered on time or on budget. Managers go to extreme lengths to prepare, go even further to remedy problems along the way, yet it seems that only through heroic action is any project finished on time, and there aren't enough heroes around.
Visual Project Management: Simplifying Project Execution to Deliver On Time and On Budget, the upcoming book from Mark Woeppel, gives readers a stunning inside look at what's going on inside their projects, and explores:

The root causes of late delivery and how to systematically identify and weed them out.
How any project can be turned around quickly
Eliminate the silo effect on project teams, streamlining and improving communication and accountability
A simplified approach to managing project execution, delivering fast, significant results in schedule and budget performance
Visual Project Management: Simplifying Project Execution to Deliver On Time and On Budget is available now for pre-order.
About Mark Woeppel
Mark Woeppel is the founder and President of Pinnacle Strategies, an international management consulting firm helping organizations translate operational improvements into real business value by implementing proven methodologies, such as Theory of Constrains, Lean, and Six Sigma, in their organizations.
He is the author of two other books on management and execution in addition to Visual Project Management, titled Projects in Less Time: A Synopsis of Critical Chain, and The Manufacturer's Guide to Implementing Theory of Constraints. Through both his work at Pinnacle Strategies, and his experience as an author, Mark has seen first-hand how instrumental and transformative the methodologies can be, and is dedicated to teaching as many people as possible how they too can transform their business.
About Pinnacle Strategies
Pinnacle Strategies is an international productivity improvement firm specializing in operations excellence, project management, and business process reengineering. We work with organizations to drive local process improvements to the bottom line; improving collaboration, streamlining workflows, and refining management focus.
For more information, contact Pinnacle Strategies at info(at)pinnacle-strategies(dot)com, or +1 (972) 492-7951