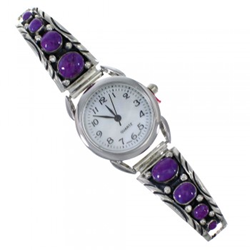 Our newest line of watches cater to a classic and eye-catching look that you simply won't find at most watch stores.
Phoenix, AZ (PRWEB) April 28, 2015
One of the top online leaders in southwestern jewelry has introduced an assorted line of gemstone watches just in time for some important holidays. With Mother's Day, Father's Day, and graduation season fast approaching, a unique watch is a valued gift to give to someone you care about.
TurquoiseJewelry.com has introduced multiple new watches in men's, women's, and unisex styles to fit any personality. Many are made with beautiful sterling silver and set with gemstones such as turquoise, coral, onyx, and others. The new line of watches have a variety of styles engraved, some with Navajo patterns across the bands and others bearing southwestern symbols such as cacti and eagles.
TurquoiseJewelry.com brings trendy fashion jewelry at affordable pricing for those who love the southwestern styles. Rings, necklaces, earrings, and more are among the variety of jewelry offered to those who want to add a unique touch to their look.
"Fashion jewelry is one part of what TurquoiseJewelry.com provides," said spokesperson Jack Burch. "But our newest line of watches cater to a classic and eye-catching look that you simply won't find at most watch stores."
Burch went on to say, "We brought this line in because of its diversity. There are delicate, jeweled watches for Mother's Day, sturdy silver pieces for Father's Day, and plenty of other options for graduation presents or birthday gifts. A watch is a precious gift to receive – so why not make it something that is styled to be so unique?"
The new group of watches vary in style but all hold their roots in the southwestern look. Many are authentic Native American pieces, while others carry the modern southwest look. All of TurquoiseJewelry.com's watches come with free shipping and a quality guarantee along with their affordability.
TurquoiseJewelry.com is an online leading supplier of turquoise jewelry and accessories including necklaces, rings, earrings, pendants, bolo ties, and more. TurquoiseJewelry.com ships to all 50 states and supplies some of the most affordable turquoise jewelry available. TurquoiseJewelry.com carries trendy jewelry along with authentic Navajo, Hopi, and Zuni pieces made by Native American artisans. For more information, visit TurquoiseJewelry.com.
Contact Jack Burch
1-888-659-2005
Support (at) Turquoisejewelry (dot) com