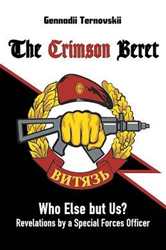 ""This book is not only a fascinating read but tells an important behind-the-scenes story about the military." - Robert Fletcher, CEO of SBPRA
(PRWEB) April 27, 2015
"The Crimson Beret" is a story about modern-day Spartans, fearless and invincible warriors, real men, as well as the beautiful, wise women who support their soldiers with the power of love to inspire their men's feats.
In this book, the author, a former Special Forces major, not only reveals the secrets of how the Russian elite Special Forces are trained for action, but also discusses the unpleasant, negative aspects of the Russian Army, of which he was a part. For doing this, Russia's military officials scored him severely, yet commanders of operational units engaged in battle missions use The Crimson Beret as a training aid for their officers and soldiers.
This powerful novel also explores the friendship and the intense brotherhood of warriors, how real courage and heroism fit into the picture, and the self-sacrifice and reckless bravery of those who must fight the world's battles.
"This book is not only a fascinating read but tells an important behind-the-scenes story about the military. We are thrilled to announce its release," said Robert Fletcher, CEO of Strategic Book Publishing and Rights Agency.
Watch the video at: https://www.youtube.com/watch?v=e7eMrdm7gTw&feature=youtu.be
THE CRIMSON BERET: WHO ELSE BUT US? REVELATIONS BY A SPECIAL FORCES OFFICER (ISBN: 978-1-62857-526-2) is now available for $18.95 and can be ordered through the publisher's website:
http://sbprabooks.com/GennadiiTernovskii or at Amazon.com or Barnesandnoble.com.
About the Author: Gennadii Ternovskii was born and grew up in the city of Pyatigorsk. After he finished school in 1993, he entered Novosibirsk Military Academy of the Internal Troops of Russia's Ministry of Internal Affairs. As he graduated from the Military Academy in 1998, he qualified for the Sixth SWAT Detachment of the Internal Troops of Russia's Ministry of Internal Affairs, known as "Vityaz." He took part in the counterterrorist mission in the Northern Caucasus and the special release hostage mission at Dubrovka Theatrical Center (the "Nord-Ost" musical). In 2005, when he quit the army, he started his theatre and movie career and began writing books.
WHOLESALERS: This book is distributed by Ingram Books and other wholesale distributors. Contact your representative with the ISBN for purchase. Wholesale purchase for retailers, universities, libraries, and other organizations is also available through the publisher; please email bookorder(AT)sbpra.net.