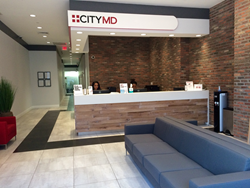 New York, NY (PRWEB) April 27, 2015
When it rains, it pours. The storm that is CityMD, has finally reached downtown Manhattan. Located on Delancey Street in the Lower East Side, CityMD will officially have 40 locations throughout New York City, Long Island, Westchester and Rockland counties.
Located at 138 Delancey Street, right off the Williamsburg Bridge, CityMD will finally be able to stretch its legs into the famous Lower East Side that has experienced a tremendous surge in growth over the past decade.
This growth is further emulated by CityMD itself, which has grown to 40 locations from 15 just 18 months ago. "This feat we are about to accomplish is utterly shocking. 8 years ago, we were a handful of doctors and staff scattered between Lynbrook and the Upper East Side. 40 is a major milestone for us but this changes nothing. Our compassion and care will continue to set the stellar example, especially here in the Lower East Side," said Dr. Richard Park, CEO of CityMD!
About CityMD:
CityMD hit the New York scene in 2010, opening its first offices in Manhattan—with a mission to bring the best urgent care services to all of New York City. The opening of CityMD's Lower East Side office will be an important achievement for the urgent care practice.
CityMD has 40 offices throughout New York City, Long Island, Westchester, and the Palisades. CityMD employs expert staff including medical assistants and technicians along with board-certified physicians who are highly trained in treating a wide variety of illnesses and injuries. Locations are open 365 days a year, welcome walk-ins for both adult and pediatric care and accept most major health insurances.
For more information on CityMD and a list of locations, please visit http://www.citymd.net.
###