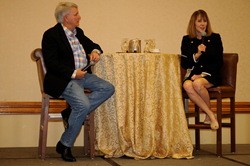 This event is the perfect opportunity for our hospitals and healthcare facilities to get interactive and up-to-date knowledge from those who know it best
Savannah, Georgia (PRWEB) April 28, 2015
HomeTown Health, LLC held its 15th Annual Spring Conference on April 15- 17th, 2015 at the Riverside Marriott in Savannah, Georgia with leading health care experts at the podium to share their expertise and best practices required to survive the effects of the Affordable Care Act legislation. "Once again, this conference was outstanding, and offers unparalleled value in terms of educational content and expert speakers to the sensitive and pressing needs of our hospitals." said HomeTown Health CEO Jimmy Lewis.
Keynote Speaker Jayne O'Donnell from USA Today was on hand to share her unique perspective on rural healthcare in the media. The 3 day conference was kick started by breakout sessions on Wednesday afternoon which focused on three respective areas: Hospital Board Training, Critical Access Hospitals and the Cost Reporting/S-10 report. Each session brought together a range of hospital personnel from across the state to hear from leaders in the areas of liability, accounting, physician recruitment and reimbursement.
On Thursday, the over 200 attendees heard a report from the Rural Stabilization Committee led by Jimmy Lewis, Rep. Terry England, Rena Brewer of the Georgia Partnership for Telehealth and Charles Owens, Executive Director of the Department of Community Health. Attendees heard directly from 3 hospital executives on the expected and actual impact of the ACA on their facilities, as well as potential considerations for problem-solving any negative affects the ACA may have on their healthcare systems.
A three-part panel focusing on Developing the Workforce of the Future included Dr. Barbara Prosser of Effingham College & Career Academy and Phyllis Johnson, Career Education Specialist at the State Department of Education. The Workforce panel addressed the expected shortages in healthcare workers and emphasized the need of collaboration between local healthcare facilities with local schools and Health Science programs. In addition, attendees were given an overview of the role of Documentation & Coding in successful reimbursement considering the areas of ICD-10 coding, Skilled Nursing coding, and general coding rules. The Thursday session was ended with a interactive Town Hall meeting where attendees discussed top issues facing their facilities, saw a telehealth demonstration from the Georgia Partnership of Telehealth, and learned about recent legislative and HIT updates within the state.
The Friday session was opened by Kathy Whitmire, Managing Director of HomeTown Health, and the first presentation was provided by Rep. Butch Parrish from the Georgia House of Representatives. Next, Rusty Ross of Morris, Manning & Martin educated attendees on the realties and intricacies of the STARK Law. Jeryl Williams of Amerigroup then addressed the group on the topic of Physician Practice Improvement, specifically the Patient Centered Medical Home and chronic care management. Lynn Barr, from the National Rural Accountable Care Consortium traveled to the conference to present on the New Rural ACO models and Coordination of Care, including how value-based payments will affect facilities, and how ACOs can help providers. The final session, led by Evelyn Leadbetter of HomeTown Health and Sollie Bartoe of Arthur J. Gallagher, focused on Disaster Preparedness for healthcare centers.
"This event is the perfect opportunity for our hospitals and healthcare facilities to get interactive and up-to-date knowledge from those who know it best," says Kathy Whitmire, HTH Managing Director, "the value of having face-to-face encounters with their peers as well as with our best practice business partners, and 2 days of solid, pertinent live training, equips them to go back to their facilities ready to make improvements, to continue good work, and prepare for the future."
About HomeTown Health:
HomeTown Health has dedicated the last 15 years to serving and educating 60+ rural and critical access hospitals in Georgia, and recently expanded its network and influence into Florida and across the Southeast United States. Find HomeTown Health online at http://www.hometownhealthonline.com .
For more information contact:
Jimmy Lewis, CEO
770-363-7453
theleadershipgrp(at)mindspring(dot)com