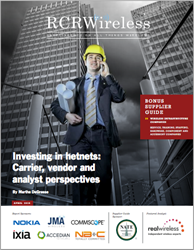 Mobile operators are choosing their network investments based on the expected returns, and this report outlines some of the factors that impact those ROI calculations - Martha DeGrasse, RCR Editor
Austin, Texas (PRWEB) April 27, 2015
RCR Wireless News is pleased to announce publication of "Investing in HetNets: Carrier, Vendor and Analyst Perspectives." HetNets are heterogeneous networks, and mobile operators create them by deploying small cells and distributed antenna systems in dense urban areas or crowded buildings.
In preparing this report, RCR Wireless gathered insights from top executives at AT&T, Verizon, Crown Castle, Nokia (including SAC Wireless), Alcatel-Lucent, Huawei, CommScope, JMA Wireless, TE Connectivity, Ixia, Accedian Networks, Network Building + Construction, Alpha Technologies, GE Critical Power, and Radisys. Analysts from Real Wireless, ABI Research, Mobile Experts and Current Analysis also contributed.
"Mobile operators are deciding where and how to add capacity to their networks," report author Martha DeGrasse said. "They're choosing their investments based on the expected returns, and this report outlines some of the factors that impact those ROI calculations."
Operators face different sets of decision criteria for outdoor versus indoor deployments. Site acquisition can be challenging for outdoor deployments, and this report shares some of the approaches that vendors and infrastructure service providers are using to address these challenges.
Indoors, thorough testing and optimization can make the difference between an investment that pays off with increased data traffic or a network nightmare. Indoor systems typically need to function smoothly alongside existing Wi-Fi and need to be integrated with the macro network. The macro network equipment may not come from the same vendor that supplies the small cells.
"As the network moves indoors, the high-mobility features of the 4G network are less important and independent companies can coexist with an outdoor macro network deployed by the big OEMs," analyst Joe Madden, founder of Mobile Experts, said.
"There is no question that most operators understand the need for improved in-building service for many of their customers, but they differ on how to provide it," Real Wireless's Simon Saunders said. "Some still have an 'outside-in always wins' mentality. Some are moving forward with dedicated small cells to complement existing DAS deployments, but are still adopting a 'special projects' approach, which suits very big venues well, but is not scalable. To truly scale they need to determine how best to find a 'middle way' model which will suit the vastly bigger number of buildings representing small- medium-large office environments."
Topics addressed in this report include:

Carrier criteria used to evaluate new HetNet deployments
How technology is changing the cost comparison between small cells and DAS
How the AWS-3 auctions have impacted the outlook for HetNet deployments
How self-optimizing networks and real-time visibility can impact TOC
How vendors are helping carriers acquire and secure outdoor sites
The role of enterprise Wi-Fi in indoor deployments
The outlook for cloud-RAN
The outlook for multi-operator small cells
This report is accompanied by a complimentary webinar on the same topic featuring analyst Simon Saunders of Real Wireless, AT&T's Paula Doublin, CommScope's Philip Sorrells, Ixia's Daniel Musat, Scott Sumner of Accedian Networks, and Martha DeGrasse of RCR Wireless News. Watch the webinar here.
Download this free editorial report here.
About RCR Wireless News:
Since 1982, RCR Wireless News has been providing wireless and mobile industry news, insights and analysis to industry and enterprise professionals, decision makers, policy makers, analysts and investors. Our mission is to connect, globally and locally, mobile technology professionals and companies online, in person and now on video. Our dedication to editorial excellence coupled with one of the industry's most comprehensive industry databases and digital networks leads readers and advertisers to consistently choose RCR Wireless News over other industry publications. http://www.rcrwireless.com