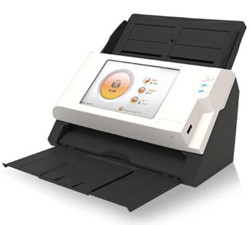 SANTA FE SPRINGS, Calif. (PRWEB) April 27, 2015
Plustek Technology Inc., the leader in imaging scanners and surveillance products, today announced it will release an Application Program Interface (API) for its eScan A150 standalone network scanner at the Upland Conference, Impact 2015, in Lake Buena Vista, Fla. from April 27th to April 30th.
With an MSRP of just $599, Plustek's eScan A150 is a standalone scanner with built-in WI-FI and Ethernet. It allow users to scan to virtually any cloud destination including smartphones, email, USB and FTP. The new eScan API allows developers to maintain their branding and create proprietary interface on a scanner with an embedded touchscreen LCD. This customizable device functions with the simplicity of a FAX which will lead to increased productivity.
"The eScan API enables IT professionals to simplify the deployment of remote scanning projects at a much lower cost than before," said Robert Fuchs, marketing manager of Plustek USA.
The eScan standalone scanning appliance is perfect for the following applications:

Field office decentralized scanning
Remote client document submission scanning
Scan sensitive documents to remote server
"As workplaces become more distributed and mobile, organizations need new options to break down the barriers created by legacy technologies that prevent the smooth flow of enterprise work," said Sean Nathaniel, senior vice president of technology at Upland Software and general manager of FileBound. "We're excited to work with companies like Plustek that share Upland's vision of revolutionizing the way organizations execute work with easy-to-use products that leverage the Cloud for anytime, anywhere productivity."
In April 2015, FileBound collaborated with Plustek and applied its official certification to the following Plustek scanners:

eScan A150, a standalone network ADF scanner with the simplicity of a FAX machine.
PS456U, an 80 PPM/160 IPM document scanner with ultrasonic misfeed detection, which ensures all documents are imaged correctly.
PS4080U, a 40PPM/80 IPM document scanner which has a large volume 100-sheet capacity feeder.
FileBound resellers can now offer certified Plustek scanners.
About FileBound
Upland Software's FileBound delivers document and workflow automation that improves the operation of any organization by connecting users with the information they need to work more efficiently and effectively. With FileBound, customers can build automated workflow processes and centrally manage documents to improve compliance, collaboration and access to information. FileBound applications can be deployed locally or as a cloud-based service and have been implemented by organizations of all sizes around the world. For more information, visit http://www.filebound.com.
About Upland Software
Upland Software, Inc. is a leading provider of cloud-based Enterprise Work Management software. Our family of applications connects people through technology, automates the flow of work and brings visibility to all aspects of the organization. With more than 1,600 enterprise customers around the globe, and over 225,000 users, Upland helps teams in IT, marketing, finance, professional services and process excellence run their operations smoothly, adapt to change quickly and achieve better results every day. To learn more, visit http://www.uplandsoftware.com.
About Plustek USA
Respected as one of the world's leading image solution providers, Plustek manufactures high-quality scanners and security surveillance products to buyers worldwide. In business since 1986, Plustek began as an original equipment manufacturer (OEM) for many large companies, creating an innovative array of products including: scanners, IP cameras, servers and imaging-related devices. For more information, visit http://www.plustek.com/usa.