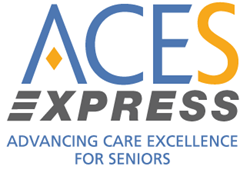 Washington, DC (PRWEB) April 26, 2015
The National League for Nursing's Advancing Care Excellence for Seniors (ACE.S), a national endeavor to prepare nurses to provide high quality, culturally sensitive care to older adults, is a great success, according to a new report by the John A. Hartford Foundation, one of the program's original funding partners.
The project began in 2007 as a pilot at Community College of Philadelphia (CCP), under the direction of Elaine Tagliareni, EdD, RN, CNE, FAAN, professor and Independence Foundation Chair in Nursing at the college and then-president of the NLN. Dr. Tagliareni has since joined the NLN as chief program officer and director of the NLN Center for Excellence in the Care of Vulnerable Populations. The center operates ACE.S and several companion programs that have grown out of the ACE.S model.
"As soon as we became involved in the ACE.S project, we knew we had a winner," reflected NLN CEO Beverly Malone, PhD, RN, FAAN. "As the NLN's president during ACE.S' 'infancy,' Elaine shared her wisdom, vision, and experience in this emerging field of specialized nursing education."
Noted NLN president Marsha Howell Adams, PhD, RN, CNE, FAAN, ANEF, dean of the College of Nursing at the University of Alabama-Huntsville, "On behalf of the NLN, I express gratitude for the Hartford Foundation's faith in the project from its inception. They were right to believe as reflected by this very positive 'report card' in which the entire ACE.S team may take exceptional pride."
In addition to the Hartford Foundation, Laerdal Medical Corp. and Independence Foundation of Philadelphia supported the CCP pilot. In the years since, it has attracted major new multi-year grants. One, from the Hearst Foundations, which includes an awards component for attendance at state-sponsored workshops, has generated the development of Twitter chats and other digital marketing tools that increase ACE.S' reach. An Independence Blue Cross Foundation of Pennsylvania grant seeks to educate faculty and clinical nursing staff to provide better instruction to nursing students in practice environments. The MetLife Foundation grant focused its support on improving care for patients with Alzheimer's and related dementia conditions (ACE.Z). And Laerdal Medical has facilitated the expansion of unfolding cases to address the specific health and mental health needs of veterans and military families in Advancing Care Excellence for Veterans (ACE.V).
Among the ACE.S highlights, the Hartford Foundation report cites:
Deans, directors, and chairs of nursing programs are asked to ensure an adequate number of dedicated simulation faculty with training and expertise in the pedagogy of simulation.
Workshop and webinar attendance that has far exceeded projections
Web traffic to the NLN ACE.S section in tens of thousands, with Unfolding Cases being the most popular webpage with more than 6,000 site visits in one year alone
The full report may be found here.