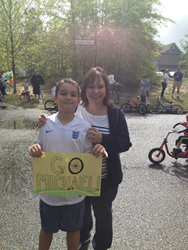 "We are all winners when we work together to support Abundant Life Equipment Lending Library." — Kathleen Ganley
Columbia, South Carolina (PRWEB) April 27, 2015
In pursuit of continuing their philanthropic tradition, Abundant Life Physical Therapy of Lake Carolina held its 11th annual fundraising festival and race on Saturday, April 18th. The Kids Riding 4 Kids event was in support of the Abundant Life Equipment Lending Library, a non-profit organization that lends equipment like adaptive bikes, wheelchairs, walkers, crutches, canes, yoga blocks and therapy balls.
Children between the ages of three and 13 rode around a quarter, half or full mile loop. All participants received a medal after passing through a colorfully decorated balloon arch. Music, food, games and a pinata were all a part of the post-race celebration on the Village Green of Lake Carolina.
Founded in 2008, Abundant Life Physical Therapy operates under the motto of "Caring, serving, believing and freedom to move without pain." Their outreach into the Lake Carolina community allows those of all ages to get involved and give back. Kathleen Ganley, a Physical Therapist at Abundant Life, said they are very proud of all of those that came out to the event. "We are all winners when we work together to support Abundant Life Equipment Lending Library," said Ganley.
For more information about Lake Carolina, contact them at info(at)lakecarolina(dot)com or 803-736-5253.
About Lake Carolina
Lake Carolina, situated on 1850 acres in Columbia, S.C., has been named Community of the Year for a decade, and offers one of the best master planned communities in the area. Within the community are over six miles of shoreline on a 200-acre freshwater lake for fishing, sailing, boating and waterskiing; 30+ miles of walking trails; a Town Center with shopping, dining and professional services; Columbia's newest YMCA; Richland 2 schools; and 20+ community events each year. Lake Carolina offers homes for sale from the mid $100s to over $1 million and homesites from $40,000's to high $200's.