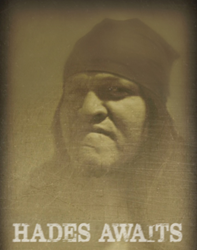 Stereotypes rule the day but we are going to be different in our tale
Hollywood, CA (PRWEB) April 28, 2015
Armored Vision is proud to announce a red carpet kickoff for Hades Awaits and to introduce this great story in film. Armored Vision will kick it off at a great location at Cooper's Town in Phoenix. The main body of the cast will be attending, including playing the role of Luke, Jason Cameron of the DIY Network, host of Mancaves and Sledgehammer. A complete evening of Q&A with select actors and Director Nathan Hill. "We really hope to start the momentum in a big way to get the message out about this film," said Keith Wilson, Producer. "Come take a picture with us and enjoy being in on the action."
In a time when over the top humor crosses the line by stereotyping heritage it is a welcoming instance when an accurate presentation comes forth in story. Hades Awaits is a Western with classic elements and a shade of allegorical sub-text that is nearing production and presents a rarely seen portrait of the Native American; namely the White Mountain Apache and their historical legacy, specifically the integration of Christianity into the southwest American territory and how it affected aspects of tribal function, family bonds and individual lives. This layers into the story line surrounding the lead character "The Gambler" played by Michael Alvarez. With an eclectic cast that includes Jason Cameron, Britney Truman, Tony Siragusa, and Larry Yazzie and reaching out to Eddy Izzard for a key role, this picture will showcase rising talent that have spent hundreds of hours developing and rehearsing their roles.
http://www.facebook.com/hadesawaits
The production team has spent countless hours studying traditions and ceremonies; the intent is to be as accurate as possible. Director Nathan Hill has gone the extra mile to secure an authentic portrayal, consulting with elders, participating in sweat lodge and securing several roles to Apache tribe members like Mangus Coloradas descendant and Apache actor Derek Riley (Taza). "I feel very connected to Taza and believe in this story", says Riley. A portion of the picture will be filmed on the White Mountain Apache Reservation where legends like Geronimo frequented. The producers of Armored Vision have pledged a percentage of the budget and proceeds to the White Mountain Apache community.
To get things started Armored Vision will be hosting a production launch party at Alice Cooper"s Town in Phoenix, Arizona on May 1st to introduce the cast, crew and minds behind the project.
The Red Carpet launch party is set at: https://www.facebook.com/events/381119705406607/