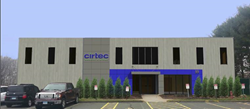 Medical OEMs...are partnering with companies like CIRTEC to launch new products as efficiently as possible."
East Longmeadow, Mass. (PRWEB) April 28, 2015
CIRTEC Medical Systems, a leading provider of outsourced medical device manufacturing services for complex Class III implantable devices and minimally invasive devices, today announced plans to develop a new 35,000 sq. ft. advanced manufacturing facility in Enfield, Conn.
CIRTEC has a long history of working with world's largest OEMs and most innovative startups to usher breakthrough neurostimulation, heart assistance, drug delivery and smart orthopedic devices through the entire device development cycle. These devices are delivering exciting new therapies including stroke recovery, minimally invasive heart disease treatment, and vision and hearing restoration, to name a few.
"This new facility not only validates our past success but prepares us to meet future demand with what will be a center of excellence for manufacturing complex implantable medical devices." said Brian Highley, CEO of CIRTEC.
The facility, just three miles from the company's current location, will include a 5,000 sq. ft. ISO Class 7 clean room and an additional 6,000 sq. ft. of controlled environment assembly space. The new facility also includes a state-of-the art machine shop, and advanced engineering and metallurgical labs. The configuration of the new space will also allow the company to deploy more manufacturing cells and to expand its use of LEAN manufacturing practices designed to continually improve product quality and to reduce cycle times and production costs.
Class III medical devices fall under the most stringent quality requirements in the medical industry. Manufacturing the enclosures, electronics, power sources, and interfaces for these devices at a micro scale is enormously challenging. As a result, more device developers are relying on CIRTEC's unmatched expertise in hermetic sealing and testing, electronics design and assembly, interconnect features, and quality systems to speed development and to reduce risk.
"Medical OEMs are looking for every competitive advantage available," said Highley. "Time to market is critical, and they are partnering with companies like CIRTEC to launch new products as efficiently as possible."
CIRTEC plans to begin moving into the new facility, located at 55 Print Shop Road, in mid-2015. The move will be in planned phases to ensure no interruption of current projects, and the company expects to hire additional personnel as production volume increases.
About CIRTEC Medical Systems, LLC
For over 25 years, CIRTEC has been a leader in providing outsourced design, development and manufacturing services for the medical device industry. The company specializes in providing first-class solutions for active and passive implantable devices as well as minimally invasive surgical, diagnostic and delivery systems and their peripherals. For more information visit http://www.cirtecmed.com.