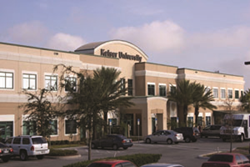 LAKELAND, FL (PRWEB) April 25, 2015
Arthur Keiser, Ph.D and Belinda Keiser are pleased to recognize Keiser University graduate from the Lakeland campus, Peter Dewey, for being one of the members of the Virginia Gazette's advertising and composition staff who collaborated to win 19 awards. Dewey was a collaborator in four of the overall awards won.
Peter Dewey, a graduate of the Graphic Arts and Design program at the Lakeland campus and a work study, graduated in 2009 and left to accept a design position with the Virginia Gazette.
"Peter was an exceptionally talented student whose creativity won him a design award from the Lakeland Advertising Federation while still enrolled in his program," said Greg Williams, University Department Chair for Graphic Arts & Design.
Dewey and members of the advertising and composition staff collaborated to win awards in Multiple Advertisers and Themed Pages, won first place for the Gazette's Garden Tour pages; Special Sections, First place with "Pain the Box" a newspaper literacy campaign; Education and Churches, won first place for an ad for mental health services; Food & Drug, third place for an ad for a local seafood restaurant.
About Keiser University: Keiser University is a private, not-for-profit University serving nearly 20,000 students offering 100 degrees at the doctoral through associate level on 17 Florida campuses, online and internationally, employing 3,500 staff and faculty. Keiser University holds Level VI accreditation signifying recognition of its expanded doctoral degree offerings.
Sixty-two percent of KU students graduate in STEM (Science, Technology, Engineering and Math) and healthcare fields, providing the talented workforce necessary for Florida to compete globally. Statewide Keiser University campuses currently have 60 accredited programs, spanning 21 program offerings, from 18 accrediting agencies/regulatory agencies to ensure that the top industry standards are met in degrees such as nursing, occupational therapy assistant, radiologic technology, physical therapy assistant, physician's assistant, and many others.
Keiser University is accredited by the Southern Association of Colleges and Schools Commission on Colleges to award certificates and degrees at the associate, baccalaureate, masters, specialist, and doctoral levels. Contact the Commission on Colleges at 1866 Southern Lane, Decatur, Georgia 30033-4097 or call 404-679-4500 for questions about the accreditation of Keiser University.
For additional information regarding Keiser University, go to http://www.keiseruniversity.edu